Pizuna 400 Thread Cotton Fitted Sheets for Babies
More Information
Breathability
High
Fitting
Tight
Weave
Sateen
AUTHENTICATED THREAD COUNT
These Sheets are durable & soft gives comforts of 5-star luxury sheet at an affordable price. Every drop of color used in the fabric is with fade-resistant dyes that stay bright even after extended use makes it heirloom quality product
Secure and safe
Our chemical-free sheet is made in BSCI compliant and oeko-tex standard 100 factories, an independent certification system ensures to meet high safety standard to keep your family safe and healthy. The oeko tex sheets are tested for harmful substances and
Wash Care
Make sure to wash your Sheets, Pillowcases or Duvet Cover Sets on gentle cycle. Add fabric softener during your machine's rinse cycle to help increase softness and reduce wrinkles. Immediately after drying, hand press your sheets to avoid wrinkles.
Category Page Product Description

Cot fitted sheet is soft, moisture absorbent and gentle on your baby's skin. Individually tailored in high quality 100% long staple cotton to ensure maximum comfort, these cot fitted sheets are made with extra special care to keep your little one in mind.

1 Pc Fitted Sheet Only
High quality patented stitching
Fits mattress up to 15 cm
Soft cotton for baby's gentle skin.
Smart side tag & top quality 360° elastic
Available in soothing colours
Your baby spends most of the time in cots, so it's important to comfort them with snug-fitting sheets that are made with the highly breathable fabric to make them feel protected, safe, and cocooned in softness. The smooth cot fitted sheets are made with naturally soft 100% long-staple cotton that is gentle on your baby's skin while they sleep restfully throughout the night.
Description

• EXTRA COMFORTABLE COT FITTED SHEET FOR BABIES: The breathable and comfortable cot fitted sheet makes your baby feel calm and comfortable in their crib. These cot fitted sheet are easy to put on and remove for a convenient experience. Ideal for a newborn's skin, the toddler bed sheet is weaved in 100% long staple premium cotton & made with safe, soft materials. With comfortable cotton cot bed sheets your small child can wake up happy from a deep restful slumber.

• AUTHENTICATED 400 THREAD COUNT: The cot bed sheet for newly born is made with soft lightweight breathable fabric to provide utmost comfort to your little one. These fitted cot bed sheets are a great addition to your home as vivid colors bring joy to your nursery. Choose from a wide variety of colors for soft crib sheet in fade-resistant dyes and remains vibrant even after extended use.

• EASY CARE AND MAINTENANCE: These 400 TC Crib fitted sheets with Fade Resistant Dyes stay bright after extended use. Each piece is inspected before packaging from our socially compliant factories. These cot bed fitted sheets are meticulously made to give your baby a healthy sleeping experience every day. Machine wash on gentle cycle, tumble dry low. Contact with bleach/bleaching agent contained in certain detergents may lead to colour loss.


• SUPERIOR QUALITY STANDARD: Individually Tailored, Measured and Quality Checked (piece by piece). These fitted cot bed sheets are OEKO-TEX Standard 100 certified

Wash Care

Make sure to wash your Sheets, Pillowcases or Duvet Cover Sets on gentle cycle. Add fabric softener during your machine's rinse cycle to help increase softness and reduce wrinkles. Immediately after drying, hand press your sheets to avoid wrinkles.

Shipping & Return

We have a simple return policy. All you need to do is send us the product back in 30-days from delivery date in its original packaging and condition. To complete the return, we would need a receipt or proof of purchase. Shipping costs are non-refundable.
Meticulously crafted from the bestselling, supersoft fabric that started it all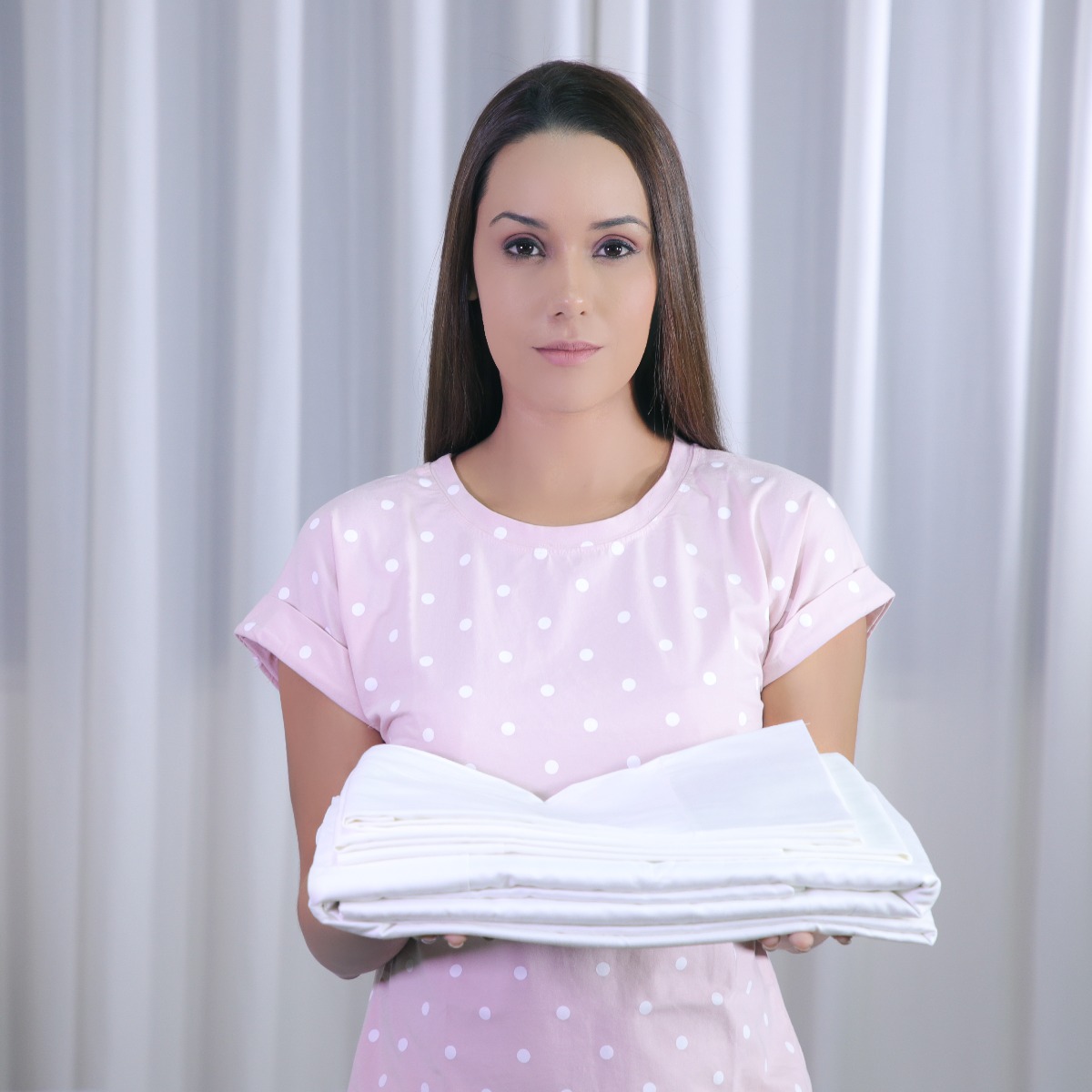 Fine Yarn Technique
We use only sustainably sourced natural 100% long staple cotton.
All our textile offerings are crafted using the Fine Yarn Technique which is employed in weaving and processing. The result is thinner long staple cotton yarn that is super soft, subtle and long lasting. The general idea is that a fabric boasting of 1000 thread count cannot be made softer. This myth is busted by the Fine Yarn Technique that increases softness and absorbency compared to other Thread Count
Our Holistic Approach.
Our approach is simple – we are dedicated in creating products and services that are in sync with what our customers wants. Unlike the traditional supply chain, we send all our best quality craftsmanship and the finest materials directly to our warehouse. We remove the middle men, stores and the additional costs and then pass along the savings to you. The additional cost of approx 80 USD is steer clear of and the sheets reach at a best possible price.
40£(Product & Shipping Cost) + 40£(Middle Man) = 80£ 40£ (Happy Customer)