5 Dorm Room Decorating Ideas for You!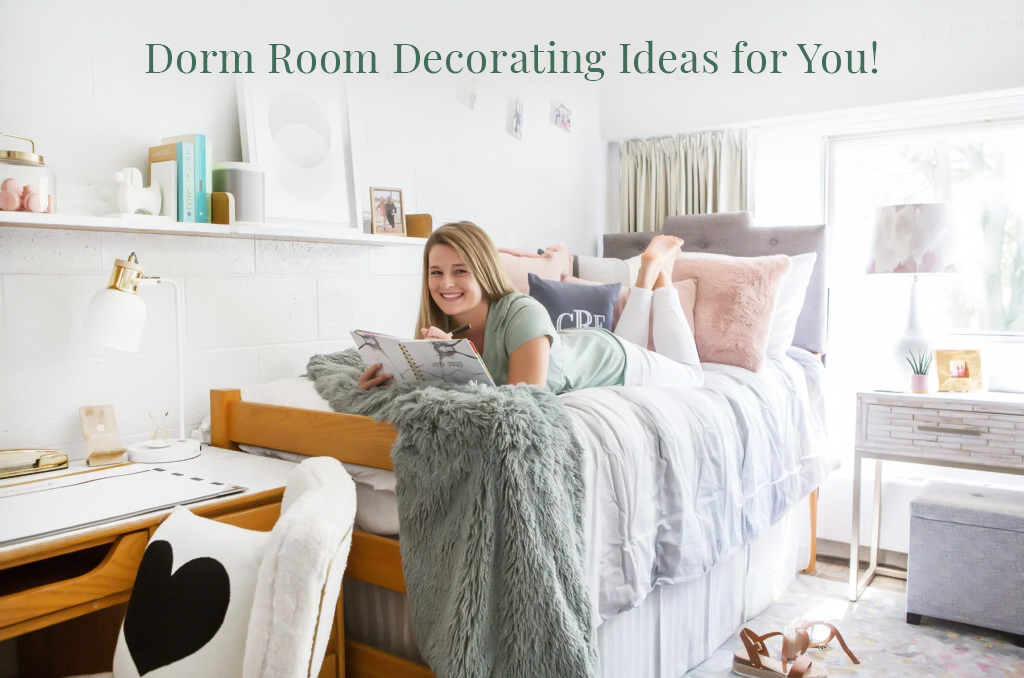 College reopening is just around the corner! So, Back to School vibes are sparkling everywhere. The new school year, new people, new teachers, new books, a new dorm room, and new roommates! You must be excited to move to the new living space in your college. Are you thinking of making it cozy with various dorm room decorating ideas? Do you know that you can decorate your dorm room with various design styles like contemporary, bohemian, traditional, french country, and a lot more? And the interesting fact is that your design style reflects your personality. Hence, while selecting the designs for dorm room decor, think of what you want & what will make you comfortable. No matter whatever design you pick, we will help you decorate your dorm room. Also, the Back to School Sale is flashing on almost all the websites. You can take benefits of them for creating budget-friendly dorm room decor. 
Here, we are with 5 simple & easy dorm room decorating ideas. They will help you to convert your small living space into a cozy & classy dorm room. 
Check out the dorm room & think of a layout with an easy-cozy arrangement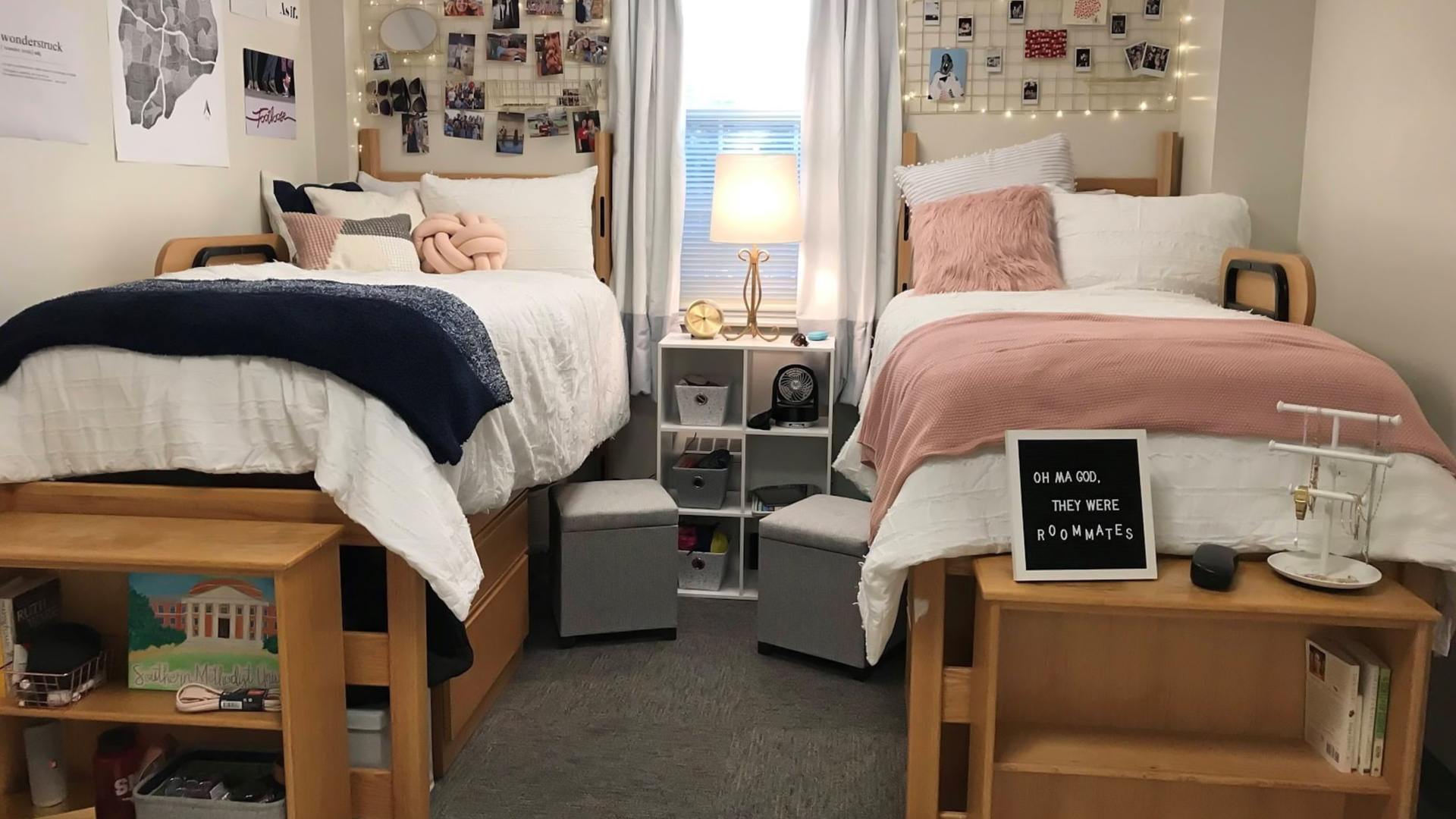 Dorm room decor starts with the layout. You can follow simple ways to make more space. 
Choose the right layout for your and your roommate's needs. 
Push the beds against opposite walls to make some personal space and then both of you can customize your side walls. 
For privacy, you can use curtains or tapestries with string, hooks, or shower curtain tension rods as room dividers. There is one more option of using plastic or wooden foldable room dividers. Select as per your need & preference. 
Once you finalize the layout, think of an arrangement for your stuff. Keep in mind the principle of maximum utilization of space. 
Use the vertical space as wall shelves & bookshelves. You can keep your books, photo frames, decorative items, coffee mug, Bluetooth speaker & whatnot! 
You can also use space-saving storage cube organizers for keeping blankets, study material, clothes, and other stuff. 
Make your storage cube unit double as a nightstand or entertainment stand to maximize the space in your dorm room.
Also, you can make a storage bench and extra seating in your dorm by laying a long unit on its side and placing a cushion on top. 
These space-saving dorm room ideas are always beneficial as most of the dorm rooms are small in size and occupied on a twin, triple, or quadruple sharing basis. 
Loft your bed for more space
Utilize the space at its best. Lofting your bed is also one of the best dorm room ideas. But before doing that, check out with the College Housing Team if they allow you to adjust your bed's height. You can fully loft your bed to create an under-bed space for study and storage. It's possible to gain up to eight inches of storage space under your bed by using bed risers if you can't raise its height. Depending on your needs, that might be enough space to store clothes, books, cleaning supplies, toiletries, and anything else you need to store. 
Coordinate with your roommate for Colour Scheme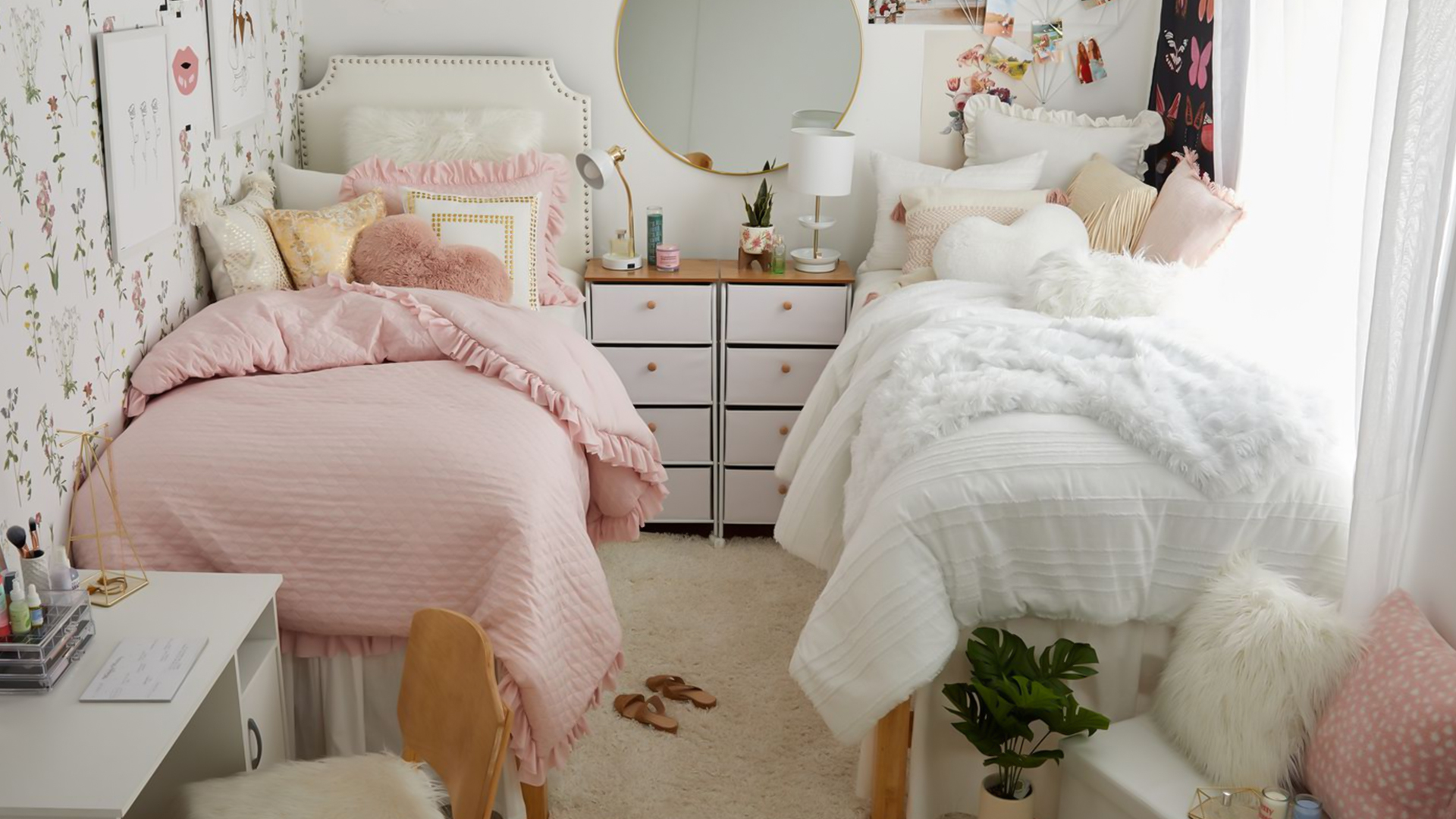 You can create a vibrant look by keeping one color family in mind, either cool or warm. Choose 2-4 basic colors and experiment with shades. You can stick to all neutrals, pair a pastel with neutral colors, use bright colors for a lively ambiance, or go with the different shades of the same color. Choose according to how you want the output. Before that, discuss with your roommate a color scheme for your living space. Maybe he/ she would prefer coordinating color schemes rather than matching coverlets. Discover a common ground on at least one color, and build from there. 
Bedding is an important factor to consider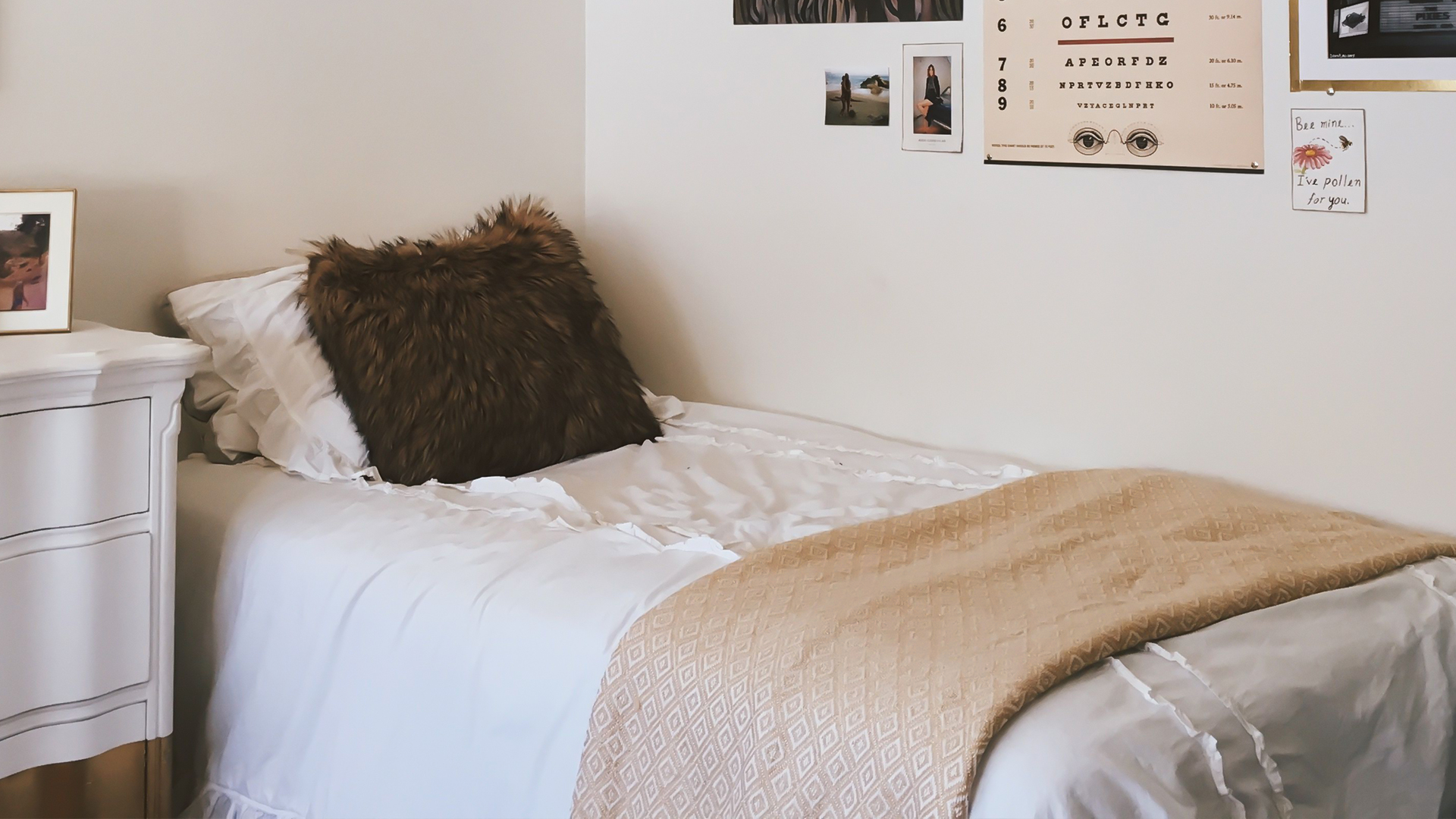 Good Sleep is a key to staying healthy and relieving stress. As you embark on a new year of experiences, you want your bed to serve as a peaceful and comfortable retreat. 
First, check the size of your dorm bed as they differ from college to college. Some dorms use standard twin beds, others use twin XL beds. Choose your sheet sets according to that. You will need at least two sheet sets for alternate usage. Go for Cotton Bed Sheet as they are durable and easy to care for. Their soft, sweat-wicking, and temperature-balancing nature ensures maximum comfort. You can select from flat sheets to fitted sheets in a range of colors and various thread counts from 400 to 1000. For discounts and best deals, keep an eye out for Back-to-School Sales. If you want to give a fresh, new look to your comforter, then consider buying a Cotton Duvet Covers. 
In the end, throw pillows can be a great way to add style to your bed. If you already have them, then help them pop with fresh covers. Isn't this dorm room decor creating a fresh vibe on a budget?
Set up your Small Kitchen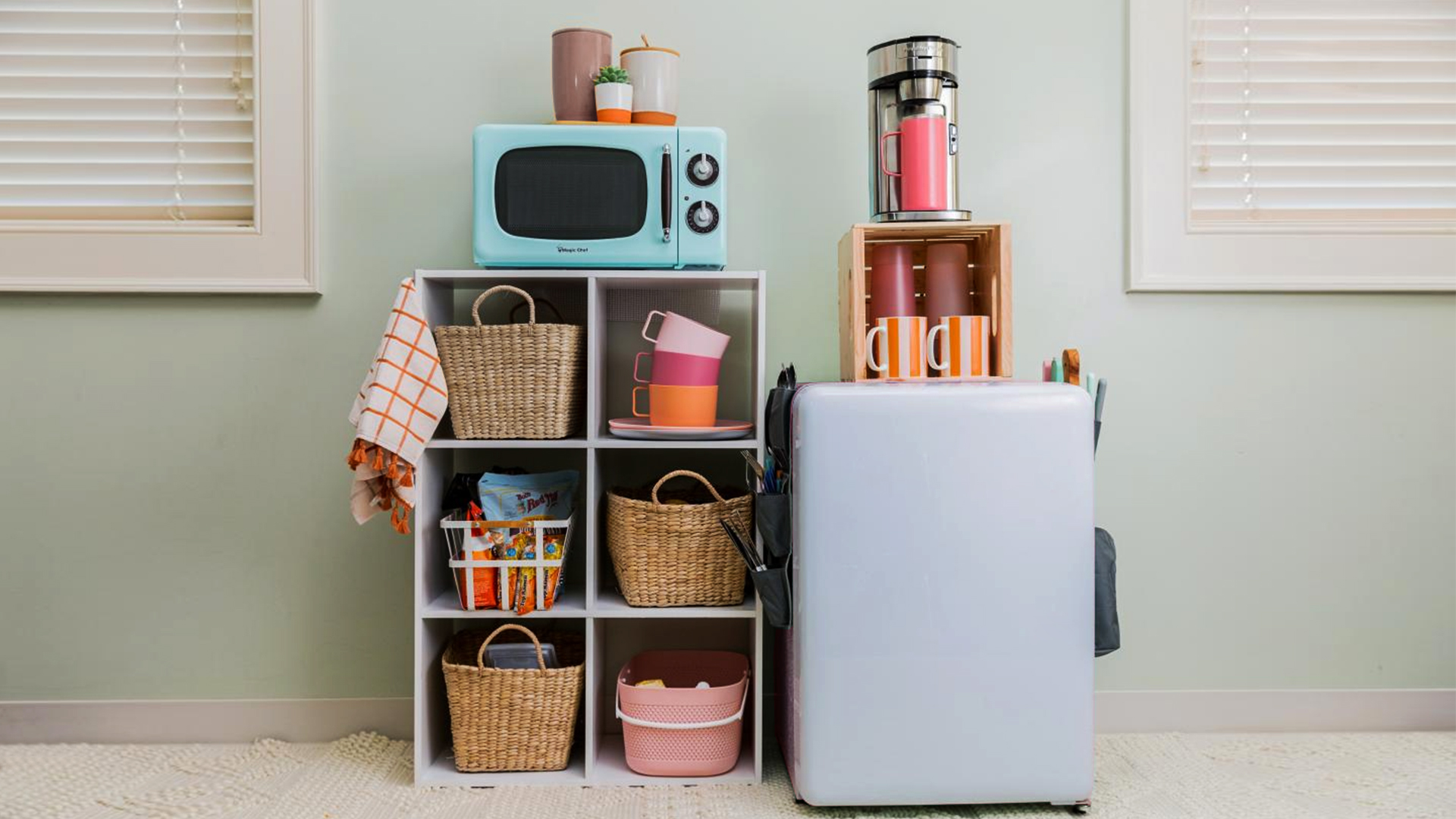 It's one of the basics of your dorm room decorating ideas. You can have all your kitchen requirements even if your dorm room doesn't have a kitchen. You can keep a mini fridge, microwave, coffee maker, and plenty of ready-to-eat snacks there. You can access these for midnight food cravings, late-night coffee, and even if you miss out on meal time at the mess. 
  So, these are the 5 tips to keep in mind while thinking of dorm room decorating ideas. Understand, that the dorm room is your living space for a year. Renovate it with creativity, make it cozy, and keep it lively even if you will leave it for a freshman after a year. The memories & moments you spend there will last as long as you live.
Happy Dorm Life!