Top 5 Halloween Bedding Colors to Celebrate the Season of Ghouls and Candies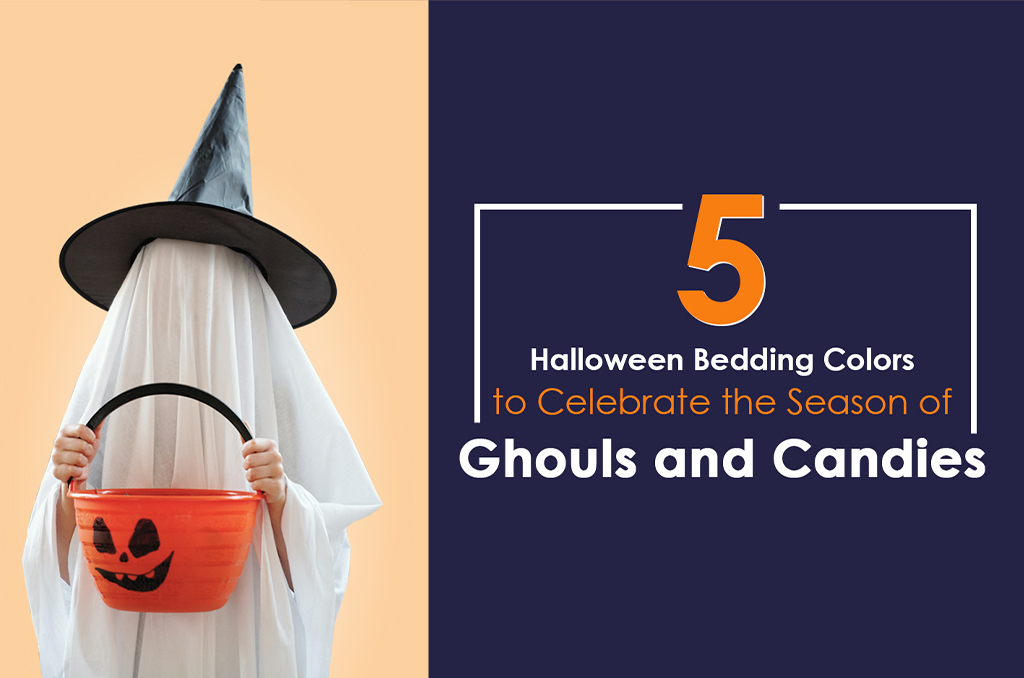 Halloween is one of the most beloved occasions and it is just around the corner, so we decided to do something special. We have chosen the top 5 Halloween colors for your bedding sets. We also have a festive goodie for you because while your backyard décor is sorted you also need to add scary cheer to your interiors.
When your outdoor decorations require meticulous planning, which involves pumpkins, skeletons, and lights in all the glory, the true spirit of Halloween can be celebrated when you have decorated every nook and corner of your home. From pumpkin lamps to skull-faced mugs, the Halloween festival is full of vibrant enthusiasm that seeps into our lives in different ways of everyday items we use.
Why not add that enthusiasm while buying luxury linens? Celebrating this fun festive season, we came up with the most popular and heavily searched shades from Pizuna Linens that our patrons keep looking at every year. With 40+ hues to choose from, here are our handpicked best Halloween colors for you to decorate your bedroom right now.
White
The classic White is a Halloween staple associated with ghouls. Used for upscale decorations, White can be applied in different elements easily thanks to its easy association with skeletons, mummies, and decaying bones. White shade always represents the spooky spirits hovering above in the night thanks to its otherworldly charm.

While you don't need to wait for Halloween to buy the most-popular White Bedding Set, you certainly can get yours here. Get White Deep Pockets Sheets Here. 
Purple
The supernatural color of magic and mysticism, Purple is your go-to color if you like your Linens ooze royalty, and power. Purple sheets are the best way to celebrate Halloween if you like to add mystery and charm into your interiors as the color of the night sky is pleasant for children and adults alike. Lavender also is known as the paler shade of purple can be purchased here for a spooky Halloween. 
Grey
The muted Halloween shade has the power to enhance vibrant colors like orange while beautifully blending with all shades of colors including, black and White. The color of the cloudy sky can add a touch of opulence to your luxury bedroom with ease, and in this festive season of Halloween, you need a color that compliments the bright lights. So, if you are looking for a subtle fashion statement for your bedroom designs, go for grey. Get yours here. 
Red
The color of blood can never be left behind because from vampires to monsters the red color is a favorite. The strong color that makes you stop is a classic which you have to wear once. Adding Red to your Halloween costume ideas will make it an effortless style statement. But enough about dressing up in costumes and more about dressing up your cotton bed sheets in the season of Halloween! When you choose red, you are choosing a focal point in your room that is alluring and, its mere presence in your bedding set will ensure your Halloween setup is successfully done. You can get your delicious colored Red Beddings Here.
Green

The color of Goblins and Frankenstein can never be left behind when we talk about Halloween décor. Green blends well with primary shades to give you a bright yet understated appeal that is both unique and impressive. Turn up the volume of luxury with a touch of Green in your interiors for a distinct flourish. The color of moss and swamp monster, add rich green color in your interiors and luxury bedroom for a soft look to behold. Get yours here. 
These are just five colors, but there's more! We have 40+ hues for your every mood. If you want to read about our all-time top colors favored by our countless patrons, then head over here.
If you have read till the end, we are sure you are inspired and ready to join our mailing list! Let's get into the festive fun of Halloween and subscribe for fresh updates, festive discounts, and so much more. This Halloween, the only scary part is missing out on our discounts.