Stressed & Not Sleeping — How you can improve your sleep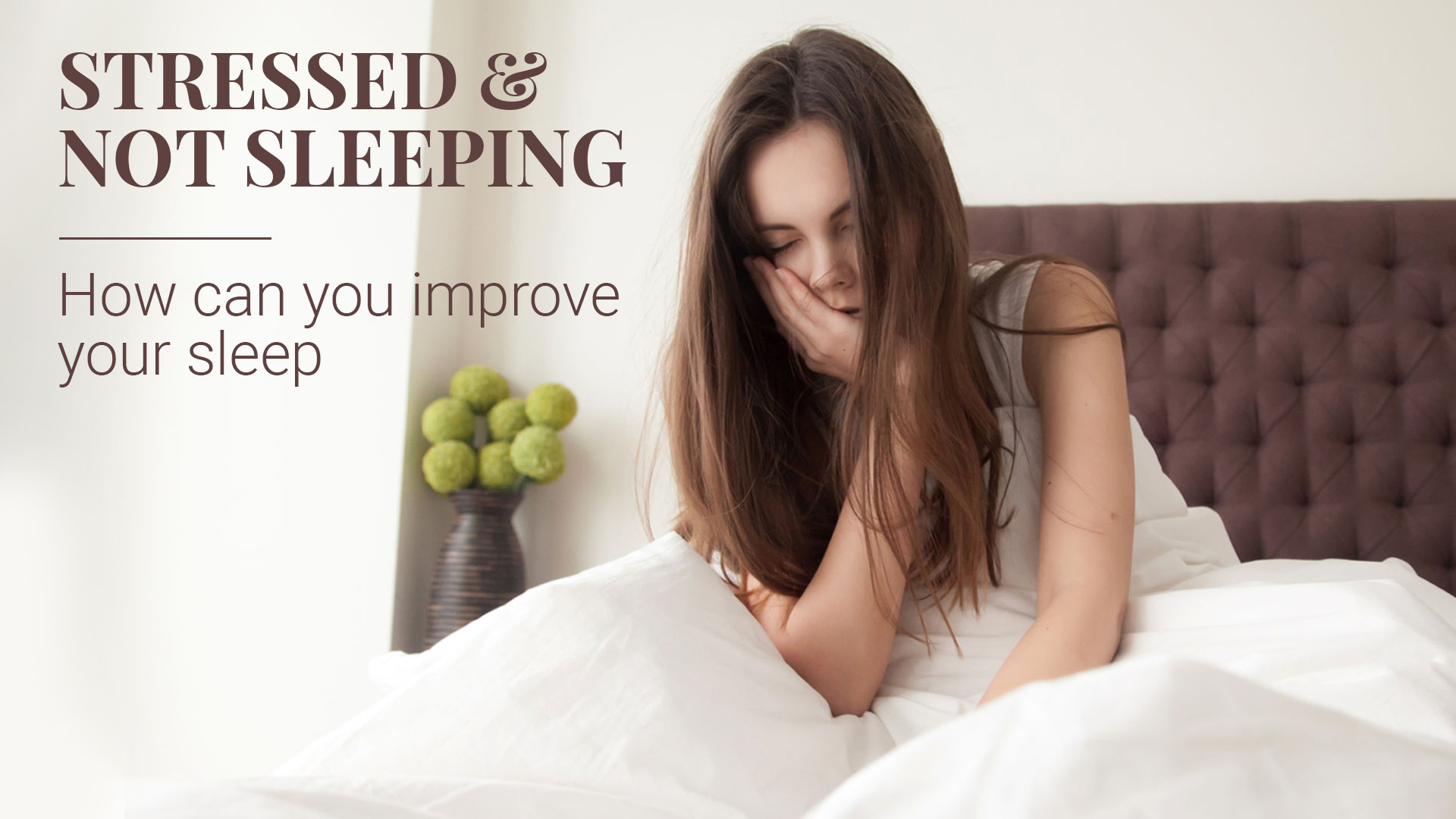 Let's face it: many of us are not operating at our peak performance. Much of this can be attributed to not only not getting enough sleep, but also the quality of sleep that we do get. Many of us are stressed and not sleeping, and continue to reinforce this negative pattern, day after day. The pandemic has taken its toll on us all, mentally and physically, so we would all do well with a healthy reset of better sleep routines and patterns. It's time to break the chain of poor sleep - investing in better sleep is key.

The good news is that such self-care upgrades don't actually cost as much as you might think, and have oversized benefits for the long term. Purchasing a higher thread count of your linens will maximize durability and softness. Each person has the right feeling that works for them. Similarly, upgrading your mattress, bedding, and spending less time in front of screens before bedtime will all help towards your health and well being through better sleep.
Learn more about how you can get a good night's sleep by upgrading the quality of your linens and other helpful tips in the visual deep dive below:
Share this graphic on your site!
Stressed & Not Sleeping

How you can improve your sleep

Two years into the COVID-19 pandemic, Americans are more stressed than ever
8 in 10 Americans are experiencing higher stress due to

Rising prices and inflation
Supply chain issues
Invasion of Ukraine

1 in 4 employees say they're approaching burnout

Nearly 2 in 3 Americans reported they "desperately needed" a vacation

60% of American adults say they're often mentally tired, even when they haven't been physically active

57% can't sleep well due to having too much on their minds
49% are often too anxious to sleep
28% turned to over-the-counter sleep aids
19% started a prescription sleep medication since 2020

The Sleep/Stress Cycle

High stress levels lead to sleep problems and fatigue
Lack of sleep makes us vulnerable to stressors
Over time, the sleeplessness and stress build to critical levels

The Cost Of Poor Sleep

Poor Health

People who sleep 6 hours or less per night have a 13% higher mortality rate than those sleeping 7 hours or more
On average, 1 hour of lost sleep correlates to 0.42 units higher BMI

Poor Decisions

Reduced ability to make sound financial decisions
2X greater risk of being involved in a car accident

Poor Performance

People who get 7-8 hours of sleep each night are 29% more productive than those who sleep less
Lost productivity leading to 2.28% impact on US GDP and 1.2 million lost working days per year
Sleep is vital to our health, wellbeing, and focus — 1 in 3 Americans adults don't get enough sleep

How to Invest In Better Sleep
Sleep Impacts Every Day

Getting enough quality sleep helps to

Reduce lethargy and fatigue
Moderate stress levels
Improve immune response
Increase memory and focus
Boost work performance
Mediate emotional responses
Build stronger relationships
Better Sheets For Better Sleep

"Since high-quality bedding provides more comfort, it translates to getting more quality sleep." — Jenny C. Yip, PsyD., ABPP
"What touches our skin appears to have a significant effect on our sleep experience. . . .So what we surround ourselves with during sleep is a big deal." — Michael Breus, PhD, clinical psychologist
Thread Count:
200-800 thread count maximize durability and softness
Choose a thread count that feels right for you
Consider adjusting your sheets to match the seasons — warmer flannel or jersey in winter and cool cotton in summer

Fabrics:
Cotton is more breathable and comfortable — Synthetic fabrics trap heat
Most people sleep best when slightly cooler than daytime temperature
Sateen finished cotton is more soft and plush
Colors:
Neutrals and deeper tones create a soothing and relaxing environment
Look for cream, gray, blue, or purple — or pick a color you find calming
If you can't afford all new sheets, Try updating just your pillowcases
Maintenance:
Launder new bedding before you use it to remove stiffening agents
Opt for additive-free detergent to reduce skin irritation and itchiness
Fresh linens are best for promoting sleep, so wash them frequently
In 2022, Americans' stress about finances reached the highest recorded since 2015 - Self care doesn't have to be expensive

Self-Care Luxuries That Make Financial Sense

Focus your self care spending were it counts
Wellness: Spending on your on health can feel expensive, but will pay off in the long term

Personal Trainer: $50-100 per hour

Helps prevent injuries and setbacks
Saves time by targeting your goals

Counseling: $50+ per session

Helps manage the effects of stress
Provides emotional support in crisis

Time: Spending a little extra can free time from mundane tasks so you can focus on what really matters

Personal Assistant: $25/month for 5 tasks

A cloud-based assistant can ensure everything gets done on time
Pay bills, make calls, schedule appointment, and more

Grocery Delivery: $100/year plus tips

Skip the store and get convenient at home delivery
All you have to do is build your grocery list

Time Off: $0/day
55% of Americans don't use all their paid time off

When working from home, many people find it harder to take time off
Planned time off can help you come back feeling energized and less stress

Sleep: Get better sleep to enhance your health, wellbeing, and focus

High-Quality Mattress: Up $4,000
Luxury Bedding: Starting at $28
Indulge in better days and even better nights with Pizuna Linens



Sources: