Do Your Sheets Hit The Mark??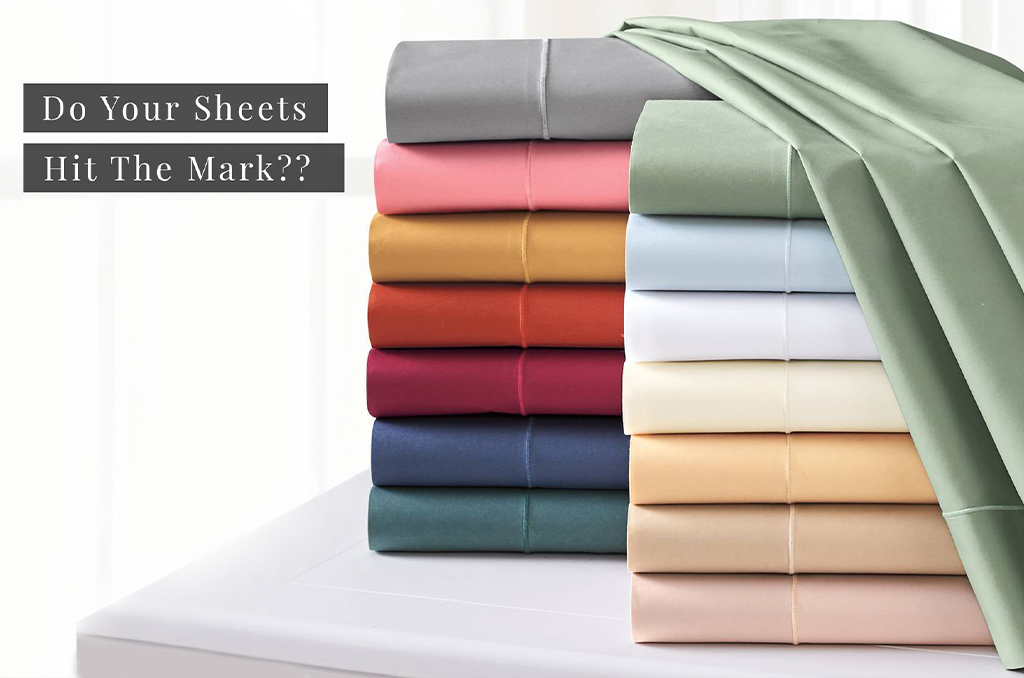 We almost spend a third of our life sleeping. The benefits of quality sleep work wonders in our day-to-day life. Some people find it easy to get to bed, while others find ways to sleep better at night. People follow bedtime rituals to appraise the mind of the time to retire to sleep. A lot of individuals buy sleeping aids to help them fall asleep. Many aspects are deciding the quality of a peaceful night's sleep. We can all agree on the most vital factor for experiencing quality sleep is good bedding. So how do you choose a bedding which ensures you get good night sleep? What are the essential components that reduce tossing and turning at night when you try to sleep? There are some sheets that keep you cool, while some sheets make you feel warm.
Let's have a look at what does good bedding consist of. The components of basic bedding feature the following items.

1. Mattress
2. Fitted Sheet
3. Flat Sheet
4. Duvet or Comforter
5. Pillows
These five objects are significant for setting up the perfect bedding. How to make your bed is an individual choice. A lot of people do not feel the need of having a top sheet. While others prefer to bolster over pillows. But the essentials mentioned in the list above really ensure proper bedding.

Now that we have a list, let's focus on the things that matter while buying these items.
What is the benchmark set? How to decide upon the quality? Should I go for oversized bedsheets? Will my sheets keep me cool during summers? What fabric I should choose? What is Thread Count in sheets?

These are some questions you must have come across while shopping for bedsheets. Also, spending on bedding is an expensive and laborious task. Therefore, you should spend your time, efforts, and money wisely before choosing bedding items.
We answer all your questions and help you buy the right bedding. Here is the guide you need to keep in mind before selecting the bedding.
Fabric
You will find the internet flooded with hundreds of fabrics and materials when it comes to bedding. The question of best material for bed sheets is debated amongst expert. Different materials have different benefits. Every fabric or material has a sub-type which is categorized according to its origin and properties. Choosing the sheets also comes down to personal preference. If you live in a tropical region, you would need sheets that keep you cool. Whereas, if you live in cold weather find sheets that keep you warm. The best material for bed sheets is the one you are most comfortable sleeping in. Let's see some commonly used fabrics for making sheets and pillows.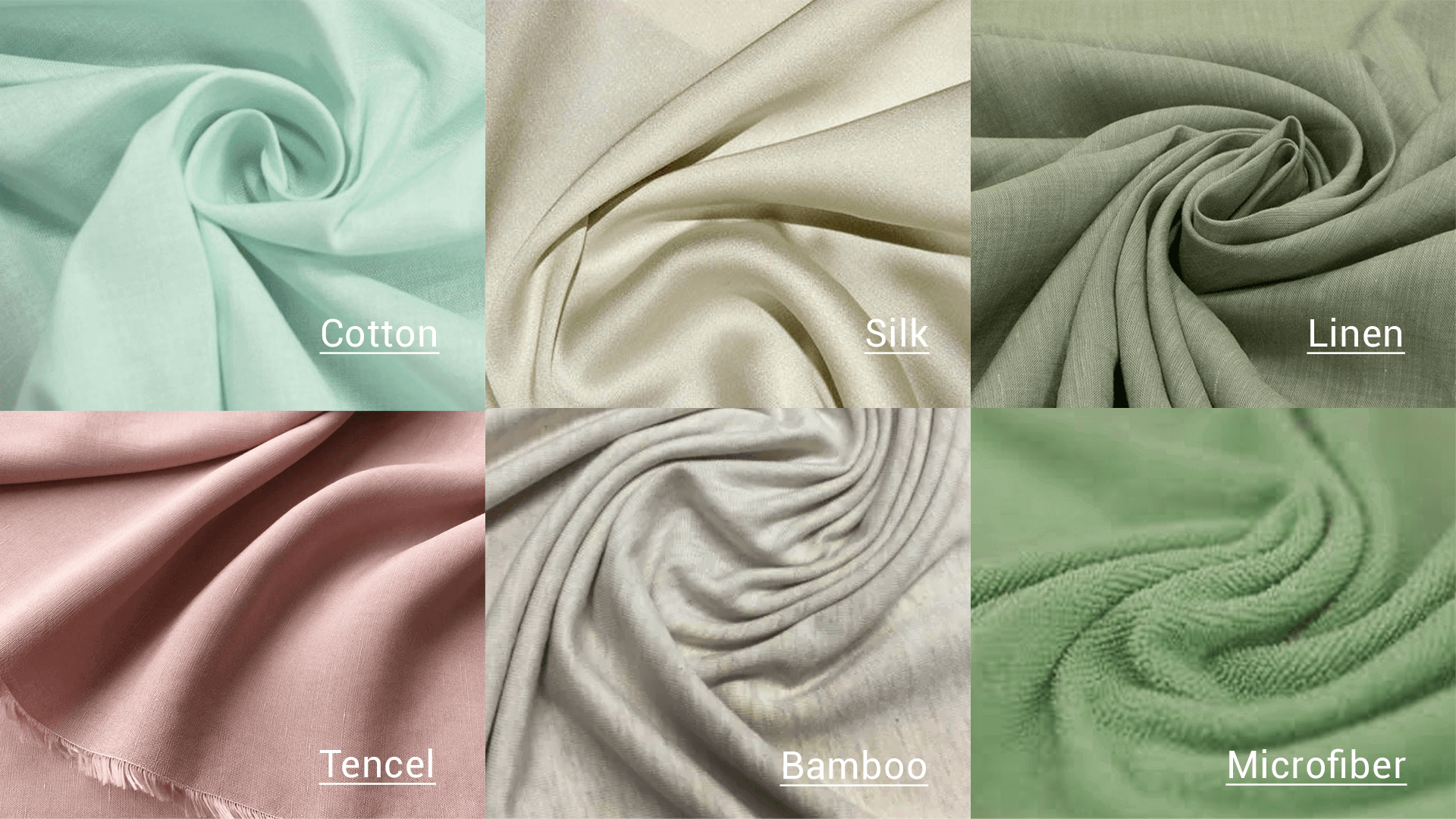 Cotton
Cotton is soft, durable, breathable, and easy to care for & maintain. It is a widely used fabric in the bedding industry. You might come across labels for sheets made with a variety of cotton. Some of the prevalent cotton types in the bedding industry are Egyptian King, Pima, Percale, Flannel, and several others. The different types of cotton are evaluated in terms of their characteristics like strength and fibers. What you really should know about cotton is the softness and breathability it offers is immeasurable.
Silk
Silk is the costliest fabric used for bedding and is considered a luxury. It offers an excellent royal touch and feels gentle on the skin. Also, silk regulates temperature remarkably well to keep you warm during winters and cool during summers. The only drawback of silk is the delicate wash care and cost.
Linen
Although not as expensive as silk, linen is costly because of its value for strength and durability. It is cool and breathable with high absorbency. The softness of linen is pleasurable and feels gentle on the skin.
Tencel
Another popular fabric in the bedding industry is Tencel. It has gained popularity over the years because of the sustainable production, softness, and durability. Furthermore, Tencel offers hygiene because of its natural antimicrobial properties. Tencel is often mixed with other materials for improving its softness and comfort.
Bamboo
In recent years, the demand for sheets produced from Bamboo is gaining popularity. The sheets made from Bamboo are a form of rayon fabric. With their softness and breathability, the bamboo sheets are a good alternative to cotton. However, the ecological impact of rayon fabric is often criticized.
Microfibre
Produced from synthetic material, Microfibre is a blend of two materials, mostly polyester-nylon. The softness and durability offered by Microfibre are good. Plus, it offers low-maintenance and is lint-free. However, fabrics produced from Microfibre have a high ecological impact.
Thread Count
Thread Count is more than a marketing gimmick. Often the question is asked what is the best thread count for sheets. You must have come across sheet sets in 200, 400, 600, and 800 Thread Count. The Thread Count of any sheet decides its softness. Basically, Thread Count is determined by the number of threads woven horizontally and vertically per square inch of the fabric. It means finer material allows a higher number of threads to be woven resulting in a higher thread count.
200 Thread Count
The 200 Thread Count is the entry-level count offers longevity & protection against wear.
400 Thread Count
400 Thread Count sheets offer softness, lightweight and durability for lasting use.
600 Thread Count
600 Thread Count sheets feels gentle on skin and offers comfort and cooling
800 Thread Count
800 Thread Count sheets are excellent to give you soft cosy experience.
1000 Thread Count
1000 Thread Count sheets are excellent to give you soft cosy experience and feel plush.
The Thread Count of bedding is important but not the only factor to be considered while making a choice. A good Thread Count for sheets is anything between 200 to 1000.
Further, we discuss the role of the types of weaves in a sheet to help you make a decision.
Weave
With the invention of technology, the types of weaves have also changed. Traditionally, there are four types of weaves used to make bedding. We will discuss the benefits of the variety of weaves.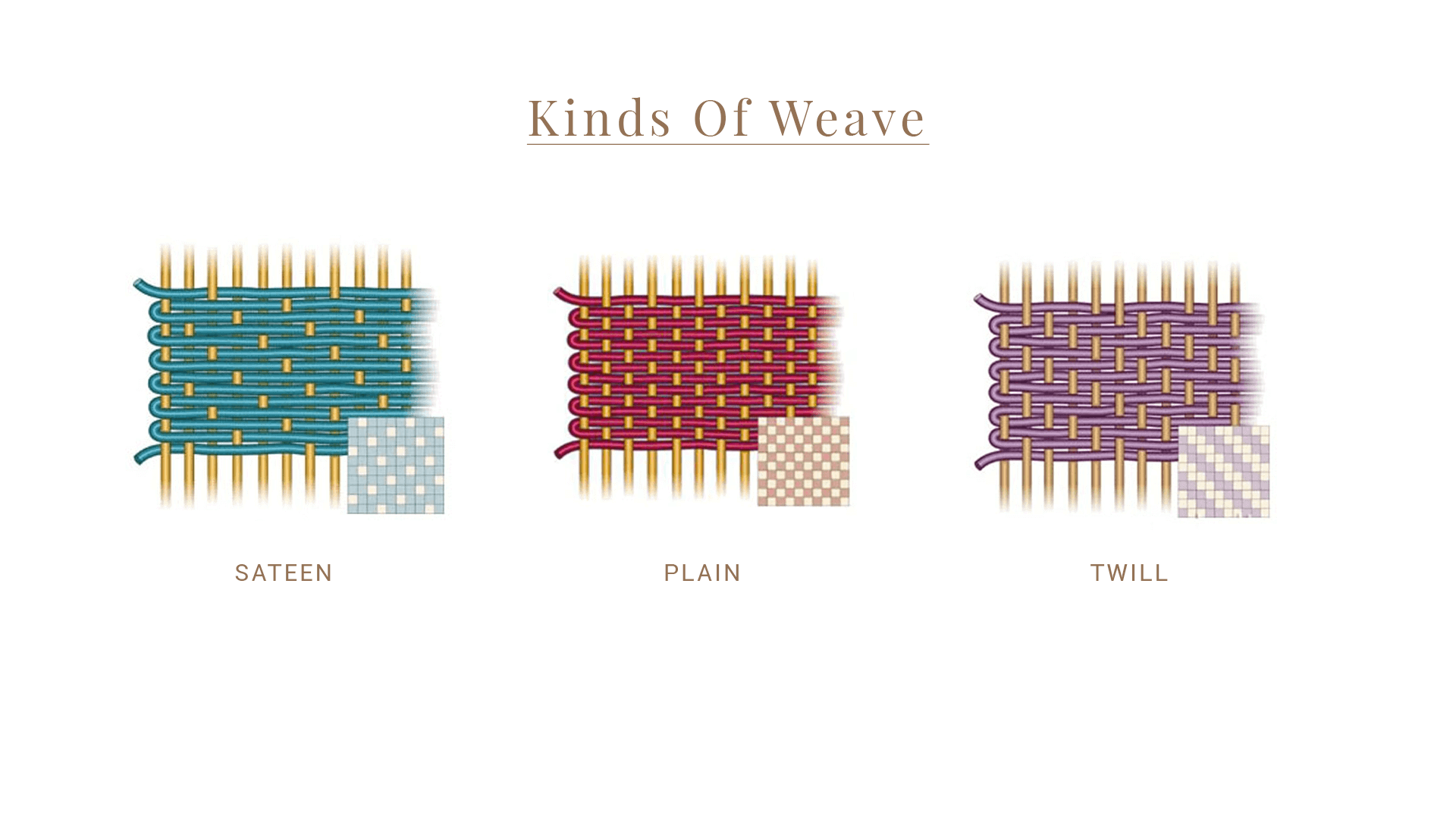 Sateen
Sateen uses three wefts (Fill/Horizontal threads) over for every one warp (Vertical threads). It offers a soft feel and creates a subtle sheen. The tightness of the sateen weave makes the fabric thick and warm.
Percale
Percale has every warp (Vertical thread) crossed over by one weft (Horizontal thread). The result of this weave is a light, cool and breathable fabric.
Flannel
Flannel weave can either be twill weave or plain weave. Napping on both sides hides the weave. The sheets made from Flannel weave are warm and fluffy.
Jersey
Jersey sheets are not weaved but finely knitted. Sheets made with Jersey knit or weave look casual and have a lot of stretch and elasticity.
Patterned
A design constructed over the texture of the fabric is called patterned weave. Two popular weaves for bed sheets are damask and brocade.
Dobby
Simple stripes or dots woven on a piece of fabric are called a Dobby weave. These patterned dots or stripes look stylish on the sheets, duvets, and pillowcases.
Now that we have seen the different types of weaves and the benefits it offers to the fabric. Let's move on to discussing another important aspect of bedding.
Size
With a plethora of sizes available in the market, sometimes it gets difficult to select the one that suits your bed effortlessly. Ensure you check your bed size before purchasing sheets. Fabrics tend to shrink after each wash, if you are going to invest your money, buy sheets that last long and are value for your spending.
Fitted Sheet
Even if you toss and turn a lot the fitted sheet should stay put while you sleep comfortably during the night. Always refer to the size guide and see if the fitted sheet is suitable for your mattress. Go for fitted sheets having elasticized corners and extra deep pockets.
Flat Sheet
Flat sheets come down to personal preference. It is good to have a flat sheet on the bed for protecting the fitted sheets against stains and marks. Generally, flat sheets are generous in size, but you must buy oversized sheets as big sheets can be easily tucked to the sides of the bed.
Color
The color of the sheets adds brilliant value to the bedroom décor. Most people love having white sheets for the feel of 5-star hotel quality luxury. However, you can find sheet sets, duvet covers, and pillowcases in vivid color to make the bedroom look exquisite and personalized.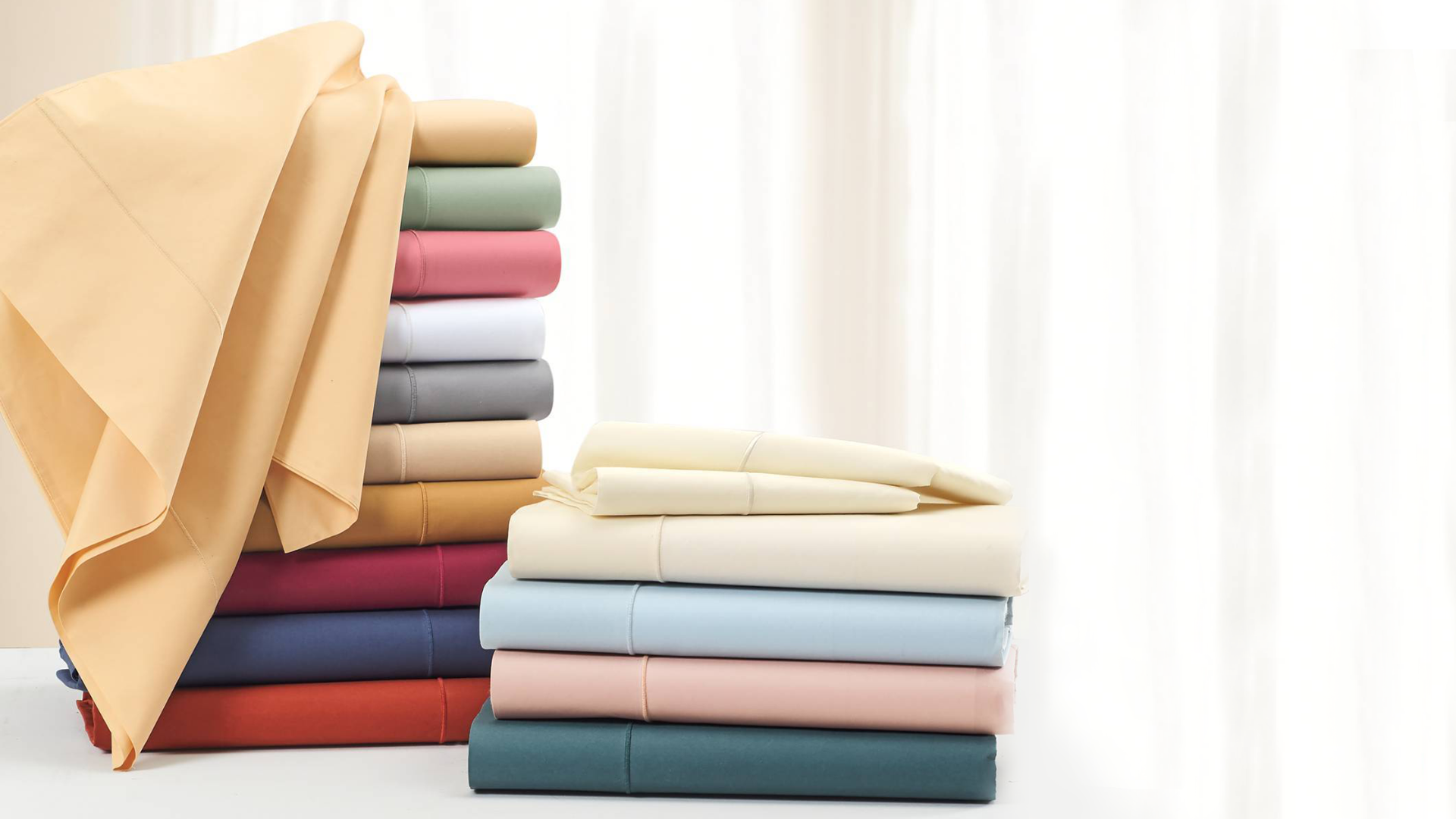 The list presented above helps you understand the roles of different aspects that make for good bedding sheets. You can instantly feel the softness and comfort of sheets after touching them. Buy sheets that make you feel cozy and relaxed. The investment that you make for the right sheets pays dividends for years in terms of comfort you experience while sleeping. You would want the best sheets to keep you cool during winters and warm during summers. The Fabric, Size, Thread Count, and Weave all things matter before purchasing bedding sheets. Pick the right set of sheets and enjoy a restful sleep.