How To Make a Bed – Simple DIY Tips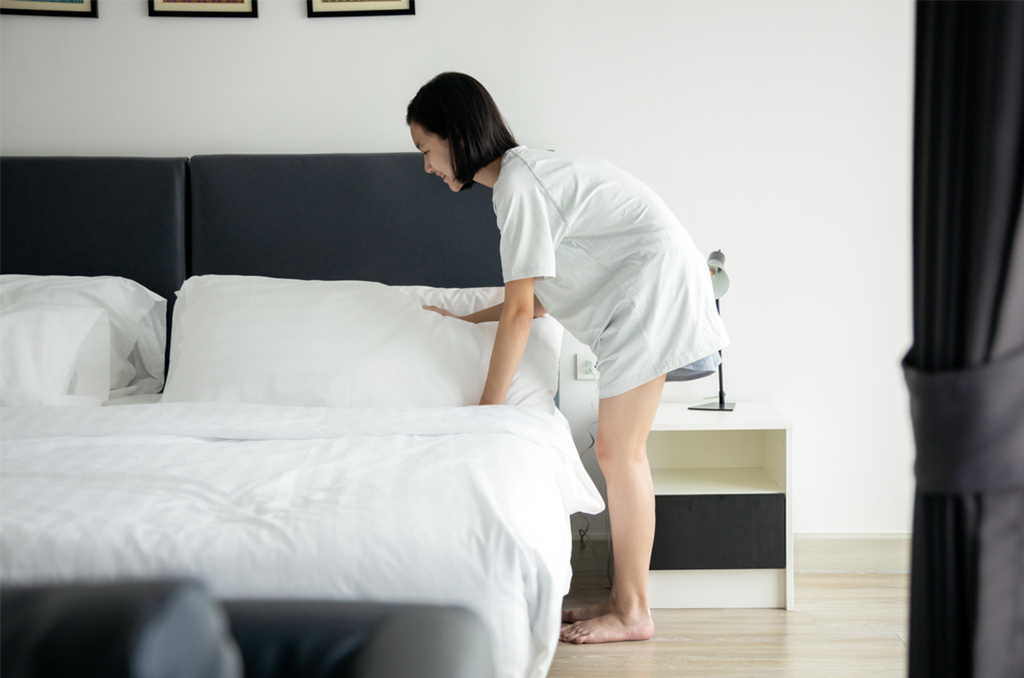 We require sleep of at least six to eight hours every night. Everyone is aware and feels the magical properties of a good night's sleep the next morning. Whereas, if you tossed and turned in your bed and slept inadequately, the low energy level keeps haunting the next day. Low energy brings down our productivity level and severely affects the mood. That is why how to make your bed is important to maintain your productive levels. Sleeping is an essential part of an individual's life cycle. Its benefits include boosted immune system, increased productivity, improved memory, a healthy heart, and much more. The factors driving a peaceful sleep are many. But the most significant aspect of good sleep is good bedding. Imagine the relaxed feeling you get sleeping on a hotel bed sheet. The coziness, softness, and orderliness of luxury bed sheets are amazing
Generally, a well-made bed means falling asleep faster and enjoying quality sleep. So, the question arises – how to make your bed. Given that you can afford the most affluent bedding without burning a hole in your pocket, you can buy the best products available in the market. Replicating the bed-quality of a 5-star hotel might be a herculean task, but with the right direction and ideal setting, you can get it done. A bedroom is a place that you look up to, at the end of an exhausting day to relax. By relaxing, it doesn't necessarily mean sleeping, it can be finding solitude and serenity. A beautiful bedroom and a snug bed mean peaceful nights. One thing is absolute, the time you spend alone or with your loved ones before bed should be quality.
We will be presenting you with an easy-to-do guide for making your bed and bedroom look amazing and feel superb. With these handy tips, you can truly make your sleeping space, inviting and cozy.
1. Good Mattress for Support.
A mattress sits on the top of the frame and is the foundation of any bed. The basic function of any mattress is to support your lying body during sleep. All you have to do is put the mattress on top of the bed base. Upholstery or fabric of the mattress provides the softness you need for sleeping. Mattresses are filled with several different materials like cotton, wool, coconut fibre, polyester and latex to make it firm. It forms the foundation of your bedding and decides the comfort levels. The really important thing to keep in mind before purchasing a mattress is the size. As mattresses can last up to ten or more years, so, always check the size of your bed before investing in a mattress.
2. Fitted Sheet for Convenient Sleep. 
A fitted sheet protects your mattress from dust, spills, and stains. It features elastic on the sides to stay securely fit over the mattress. Again, checking the size of your mattress is fundamental before buying a fitted sheet. Some fitted sheets have a tag for the long and short sides for convenience. You can easily put on the fitted sheet over your mattress by starting from the top corner and pulling it down to the bottom end corner. Continue for the other side. A simple Google search shows you the results for the best bedding sheets. Try to find a fitted sheet that effortlessly fits the size of your mattress. Similarly, you can also check the thread count of the fitted sheet, according to the smoothness you desire. Any fitted sheet with a high thread count provides the sheen to make the bed look beautiful. Some of the best bed sheets can be found here.
3. Soft Feel with Flat Sheet
A flat sheet or a top sheet works somewhat in the same manner as a fitted sheet but is different in their functionality. However, the non-elastic sides of a flat sheet make it come loose against the mattress. Some people prefer putting the top sheet over the mattress, as it can be easily removed for wash and care. You can easily put it on the flat sheet by tucking its side underneath the mattress. Putting on the top sheet over a fitted sheet safeguards against wrinkles. Also, a long flat sheet can be used purposefully to hide the sides and storage of the bed. One thing is certain, putting on a top sheet makes the bed look neat. Moreover, there are sheets that keep you cool because of their temperature balancing properties. Here are some amazing top sheets with beautiful colors to add to your bed.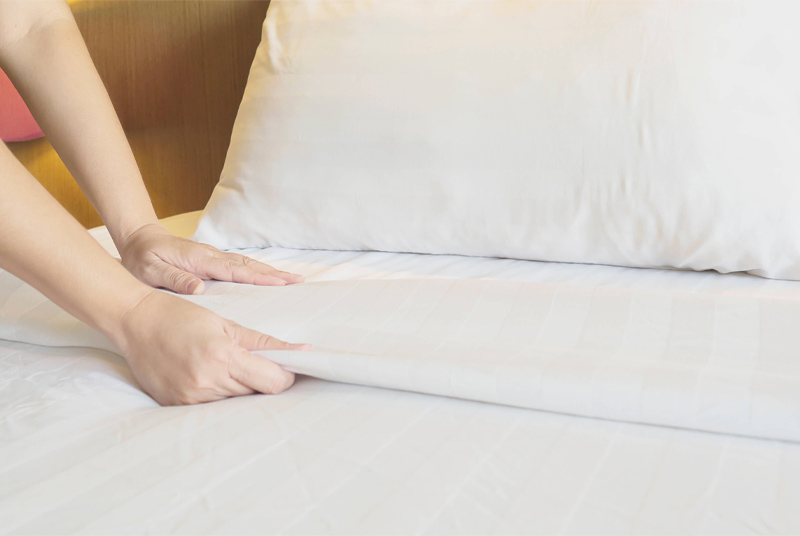 4. Duvet to Keep You Warm
A Duvet and Comforter serve the same purpose. It might be confusing for people to differentiate between them. Both the Duvet and Comforter keep the sleeper warm. A Duvet is placed on the top of a bed. It is generally white or cream color. You can fold the Duvet and place it at the end of the bed. Although Duvet or Comforter come mostly plain or sometimes patterned, you can use a Duvet Cover for a fashionable look. A Duvet Cover protects the duvet against stains, allergens, and mites. Plus, washing a Duvet is a lot of hassle many people avoid. Mix and match these astounding colorful Duvet covers with your bedroom décor for a luxurious look.
5. Style with Pillows
Pillows come in different shapes and sizes. Choosing the right pillows that complement your bedroom and bed décor might be challenging. It is down to an individual's taste for aesthetics. Pillow offers support to your neck while sleeping. Moreover, multiple pillows, when set together beneath the headboard look like an excellent decorative piece. So, select the pillow that looks perfect for the bed size. Your pillows should neither be small nor too big. Select a pillowcase that feels smooth and soft on the skin because you will be resting your face on the pillow overnight. Having chic color pillowcases is a wonderful thing to make your bed look fantastic. You can combine different colored and patterned pillows. These are colorful pillow covers of different sizes that are ideal for a stylish bed.
6. Keep it together with the Sheet Set
Sheet sets are an ideal choice for those people with limited time to mix and match or pick the right set of colors. Generally, sheet sets include matching fitted sheet, top sheet and pillowcases. The sheet set can feature matching color or pattern. The thread count and quality in the sheets set is constant for all the items. The place where you live highly influences the decision of buying bedding. If you live in a tropical region go for sheets that keep you cool and for cold conditions buy sheets that keep you warm.
7. Throws for Accentuating Style
People often get confused between throws and blankets. A blanket is more functional as it provides warmth. Whereas, you can use a throw to accentuate the bed. The only difference between the both is size. Adorn your bed with lovely throws by placing them over the comforter or duvet at the foot of the bed. You can pick a color for the throw which matches either the headboard or pillows.
8. Room Light for Good Mood
A bedroom should feature lighting that is conducive to sleep. Your sleeping space should have relaxed lighting. There are plenty of lighting equipment in the market which change hues according to the time of the day. Also, these lightings are controllable using apps. Therefore, you can set the lighting according to your mood. The essential aspect is choosing a light that is not too harsh on the eyes.
9. Decluttering with Storage Boxes
Having a cluttered bedroom invites mites and insects and looks unpleasant. You can buy wooden storage to keep away things like your bag, shoes, clothes, and everything else to free up space. Also, you can place books, plants, paintings, and artificial candles on top of the cupboard. Keeping your bedroom decluttered has many benefits and alleviates the mood for a more peaceful sleep.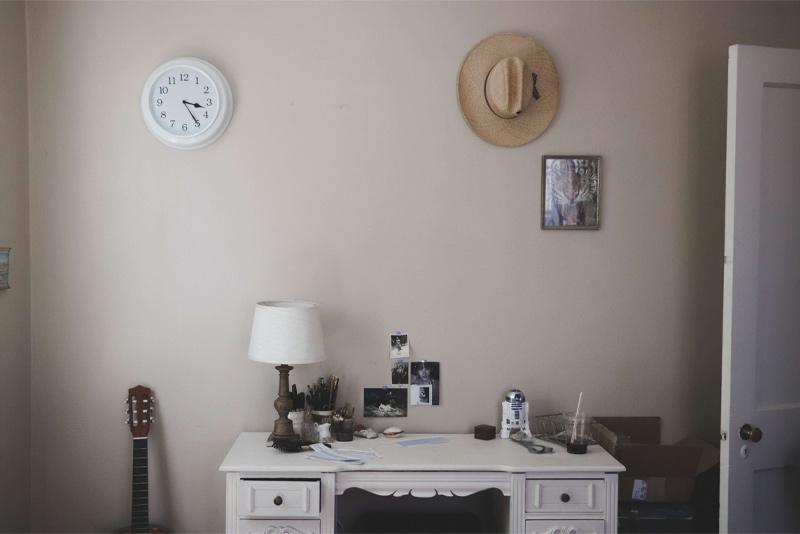 10. Walls that Talk
Make the walls of your bedroom speak by adding some of your favorite things to them. You can decorate the wall with photos of your childhood memories or awards. Similarly, there are several digital graphics available online which look brilliant. The idea is to fill up the walls moderately to leave out the blank space.
These were some DIY tips for making your bed and bedroom snug. How to make a bed or how to make bedroom cozier is a choice of personal preference. If the budget is not a constraint, you can seek help from professional designers to overhaul your bedroom. The crucial part of organizing your bedroom is to make it as comfortable as you can. Sleep is as important as food so make sure you get it right.