Get Ready for Some 'Eggciting' Kids' Room décor For Easter 2023!
Table of contents
Easter is approaching, and the season seems to be brimming with newness and vigour everywhere. Spring, bunnies, chocolate baskets, infinite love, and laughter are all linked with this much-loved festival. An abundance of flowers and pastel colours may be all you need to prepare your home for the Easter weekend, but let us take a step further this year and include eggs, rabbits and chicks as well. Kids look forward to Easter as they enjoy the festivities and it is only befitting that their rooms reflect the joy of the season.
Use these tips to decorate your kids' rooms with an abundance of joy and light before the Easter Bunny arrives.
Kids Room Décor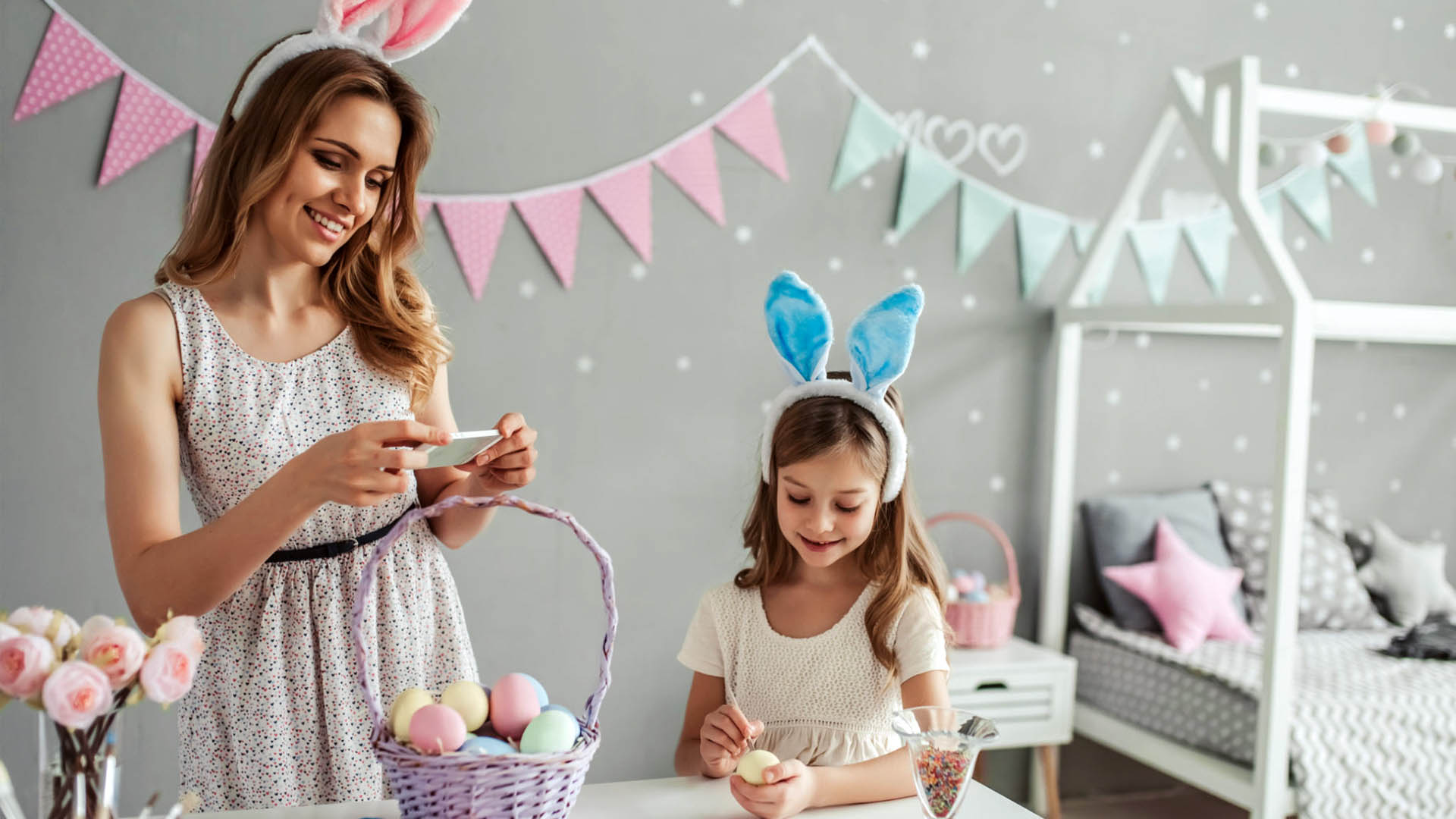 Don't confine your holiday cheer to simply your living room. Expand the love to your kids' bedroom! Here are a few fun ways to get into the holiday mood this season.
Bedroom door: Make a wreath with an Easter egg box. Each section of the egg carton can be used by trimming and painting into a flower. This is a fun activity to do with the kids and can also be used to decorate the kids' room door.
Wall decorations: How about an Easter hanging banner? You may either buy one from a store or get crafty and make your own to hang in your child's room. Their space will be well complemented by the bright and cheerful hues.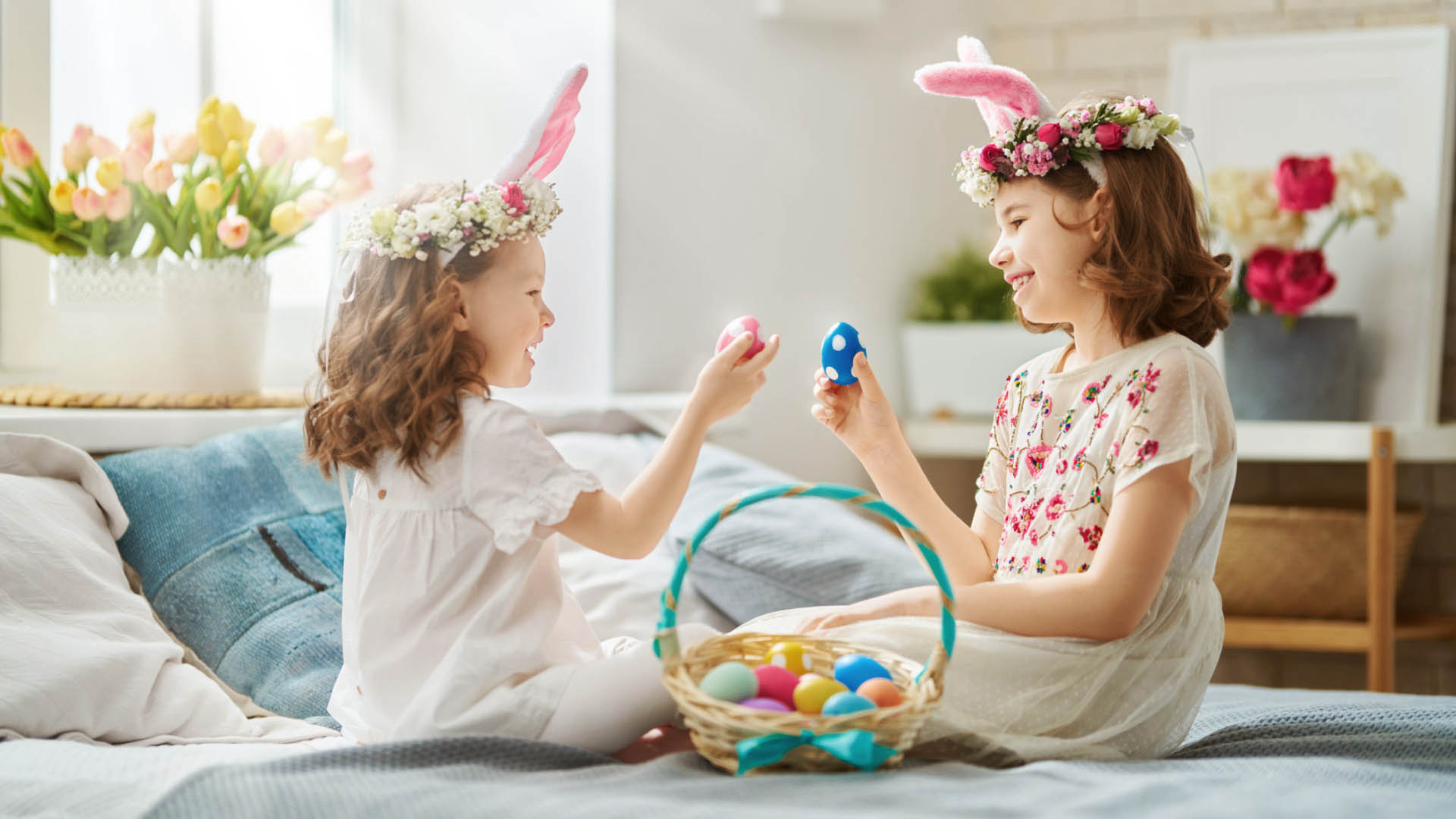 Add a garland: Garlands are simple to make. Make pom-poms, gigantic tassels or even disposable party decorations like paper tissue fans or honeycomb balls by sewing them together. Hang soft, shatter-resistant garlands on your child's bed, dresser, window, at the foot of their bed, or even on one of their favourite toys or stuffed animals. You may even decorate their bedroom reading chair with a colourful garland strand. Or you can also hang a string of bunny garland crafted out of fragments of coloured cards and small bobtails with shreds of soft cotton, on the windows.
Easter candy necklace: Jelly Bean Easter Necklaces are simple to create and make a delightful addition to Easter baskets for the whole family. Make a necklace out of jelly beans and use it as a decoration!
Easter Décor For Your Home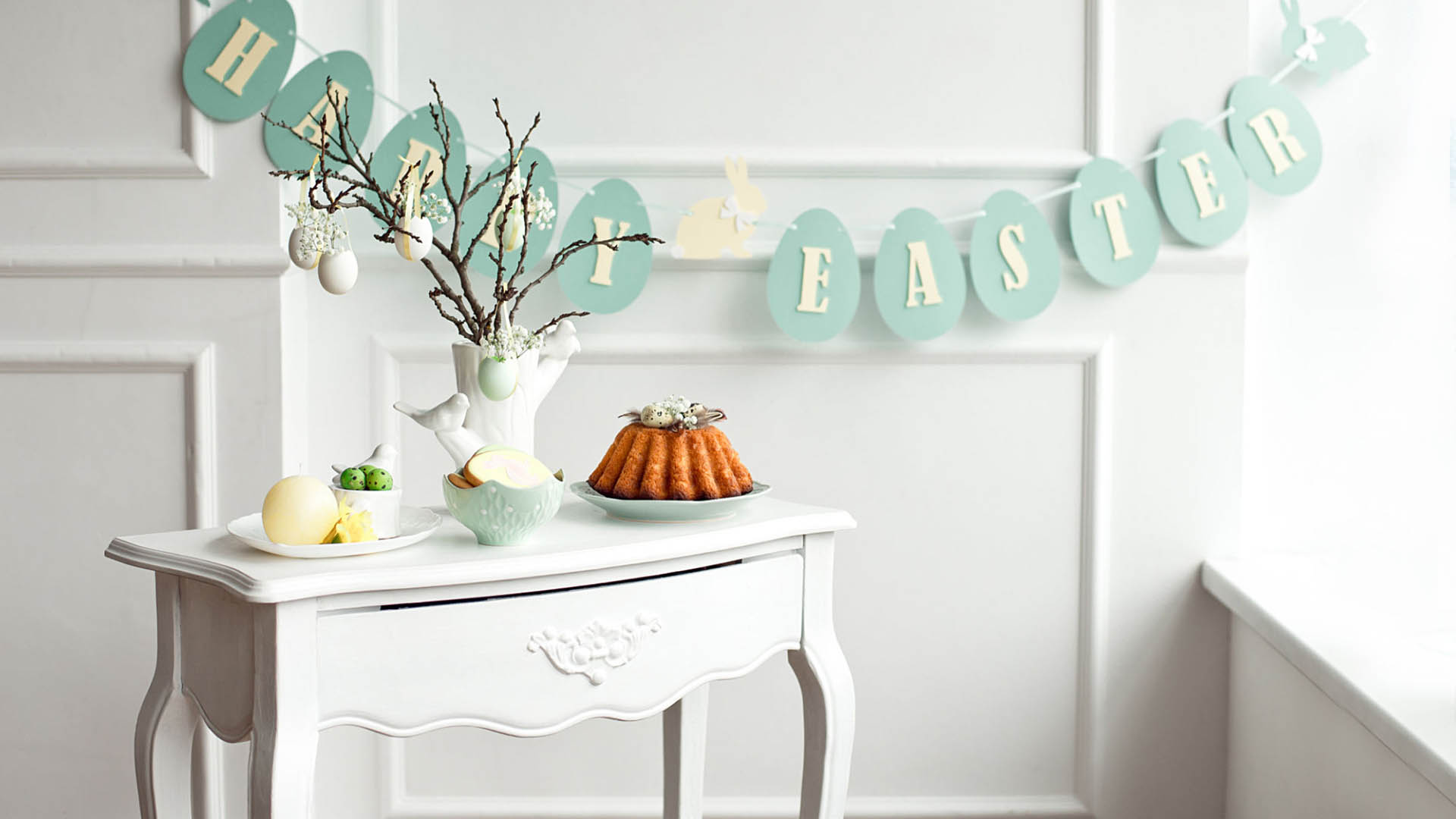 The table setting is the perfect spot to begin your new décor. Choose vintage-style accents like faded floral motifs on crockery and old glasses. The brilliant yellow napkins and colourful Easter eggs will nicely match the long-stemmed daffodil blossoms in the Easter table setting. Easter is associated with flowers and the freshness of spring. Make a beautiful display of spring flowers for a stunning centrepiece that will impress your visitors. A floral collage could be a great substitute for a bouquet of genuine flowers. Traditional embellishments like decorated eggs in teacups, bowls, or piled high in jars can be added.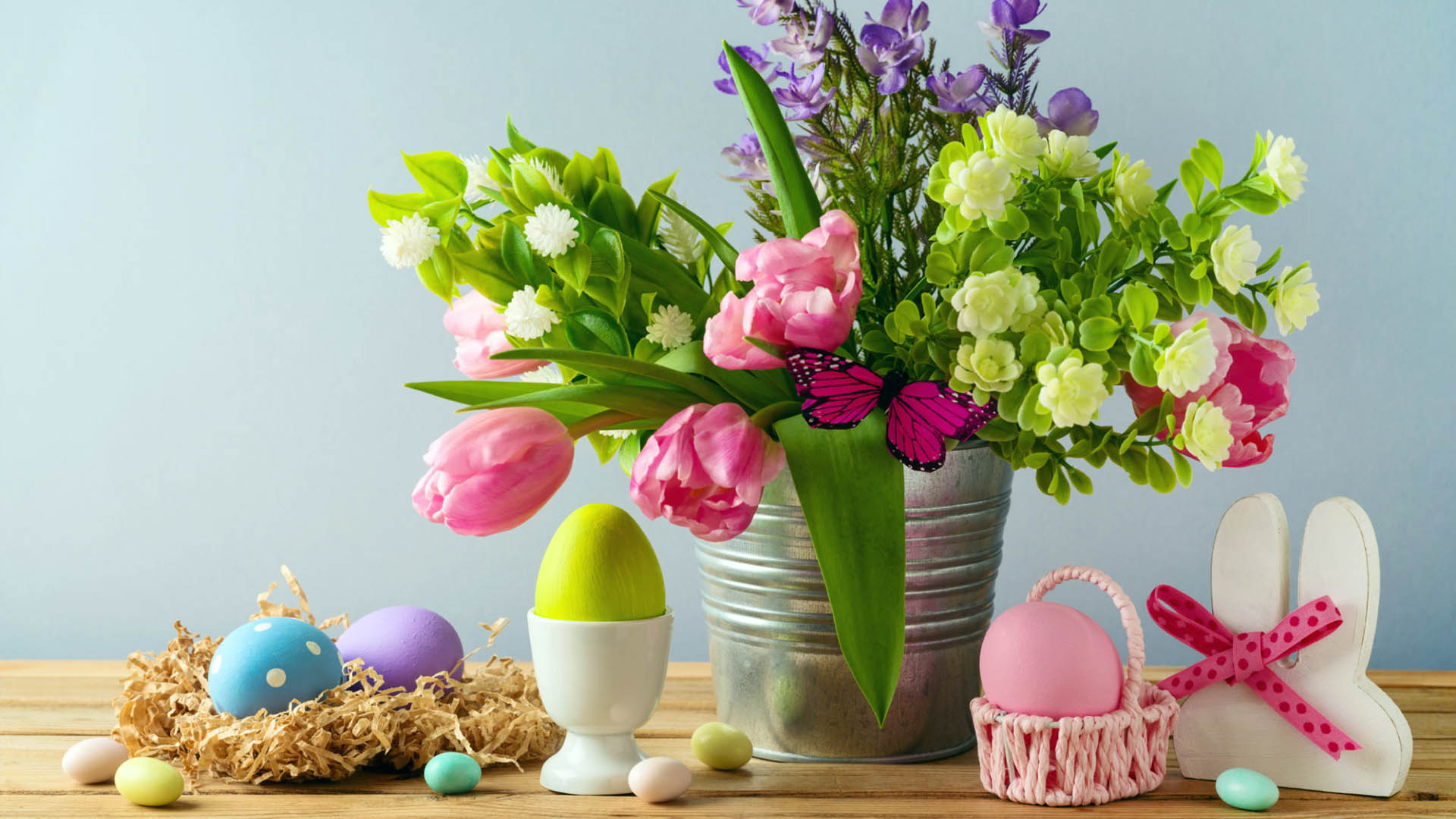 Make a one-of-a-kind Easter display with everyday items. A cake stand is ideal for displaying decorative birds, bunnies, or homemade gifts. Fill bell jars and lanterns with eggs and flowers, then decorate tables and chests with homemade décor. Flowers in eggcups, teacups loaded with eggs, and lovely displays of blossoms and tulips will round out your special Easter celebration. Easter dinners are special, and making imaginative placeholders is a lot of fun. Make 3D egg-shaped hot air balloons out of paper or modelling clay, as well as miniature bunny cut-outs for the baskets.
You can use the delicate floral-patterned fabrics on cushions, furniture, and draperies for your living room and the stunning floral sheets and pillowcases will transform your bedroom into a lovely spring garden! If you can get your hands on some fresh flowers, scatter them throughout the house. These cheerful pops of colour may brighten your day, fill your home with pleasant scents, and give it a festive air.
Easter Door Decorations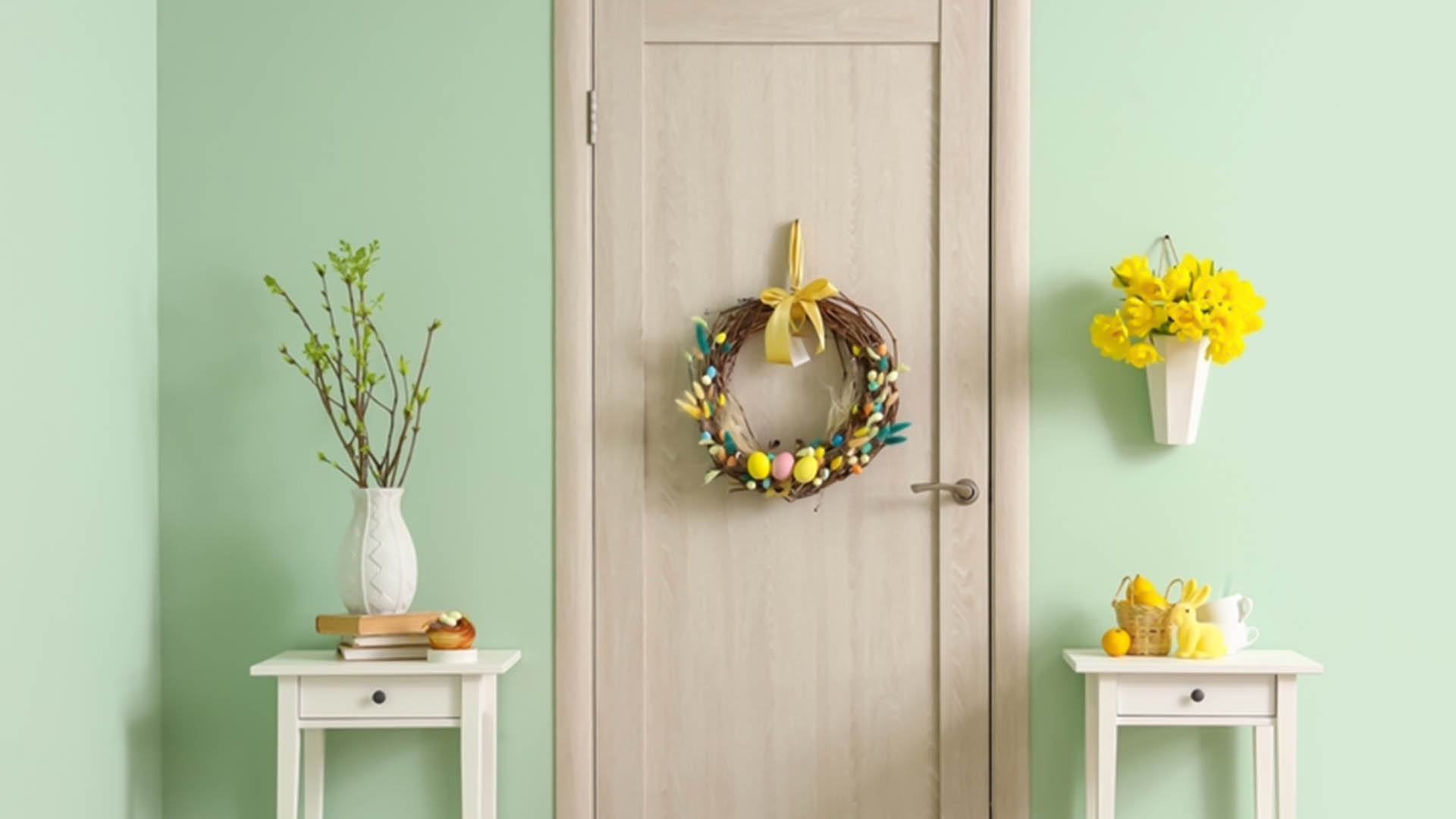 Easter wreaths are ideal for adding a splash of colour to your front door and are a popular Easter décor concept for bringing a touch of spring into the home. There are many Easter wreath designs to select from, some of them are as follows:
An Easter Bunny wreath with layering with flowers, eggs, and other decorative components is an ideal one. This design will add a playful touch to conventional Easter door decorations.
Many Easter wreaths include artificial flowers for putting on any front door and are made up of 200 artificial tulips in a vibrant colour palette of reds, purples, yellows and other hues
LED light strings, whether they are coupled with flowers or plastic eggs, will complement Easter wreaths.
A rag wreath is an excellent method to recycle any old fabrics you may have, making it an eco-friendly option.
Conclusion:
Invite the entire family to participate and create wonderful memories that will last a lifetime. Wishing you a wonderful Easter!