Tips to Beat the Heat when it's too hot to Sleep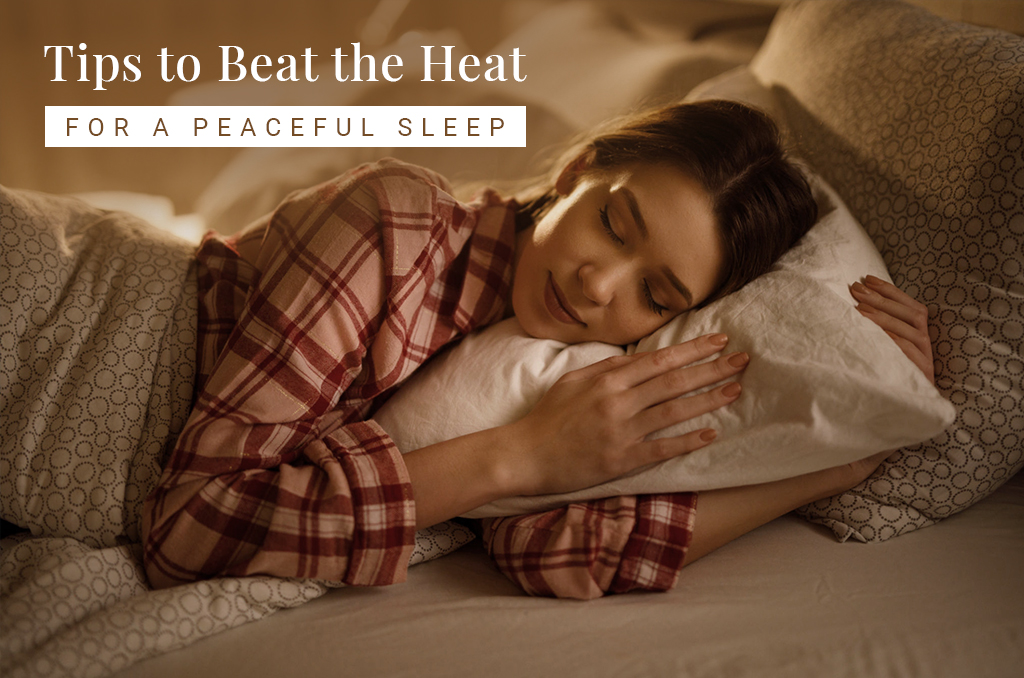 Hot sunny summer days are difficult to deal with. When you sit in the car, you can feel the temperature of your steering wheel ranging from molten lava to the sun's surface. You start sweating even if you are just sitting. There's nothing more unpleasant than sweating through all those summer weddings. For hot sleepers, summer can also induce sleep insomnia. They constantly feel hot at night while sleeping. They wake up many times in the night sweating or feeling uneasy. It may result in bouts of insomnia and could be harmful to physical health and well-being. 
Why people are unable to sleep in Summer?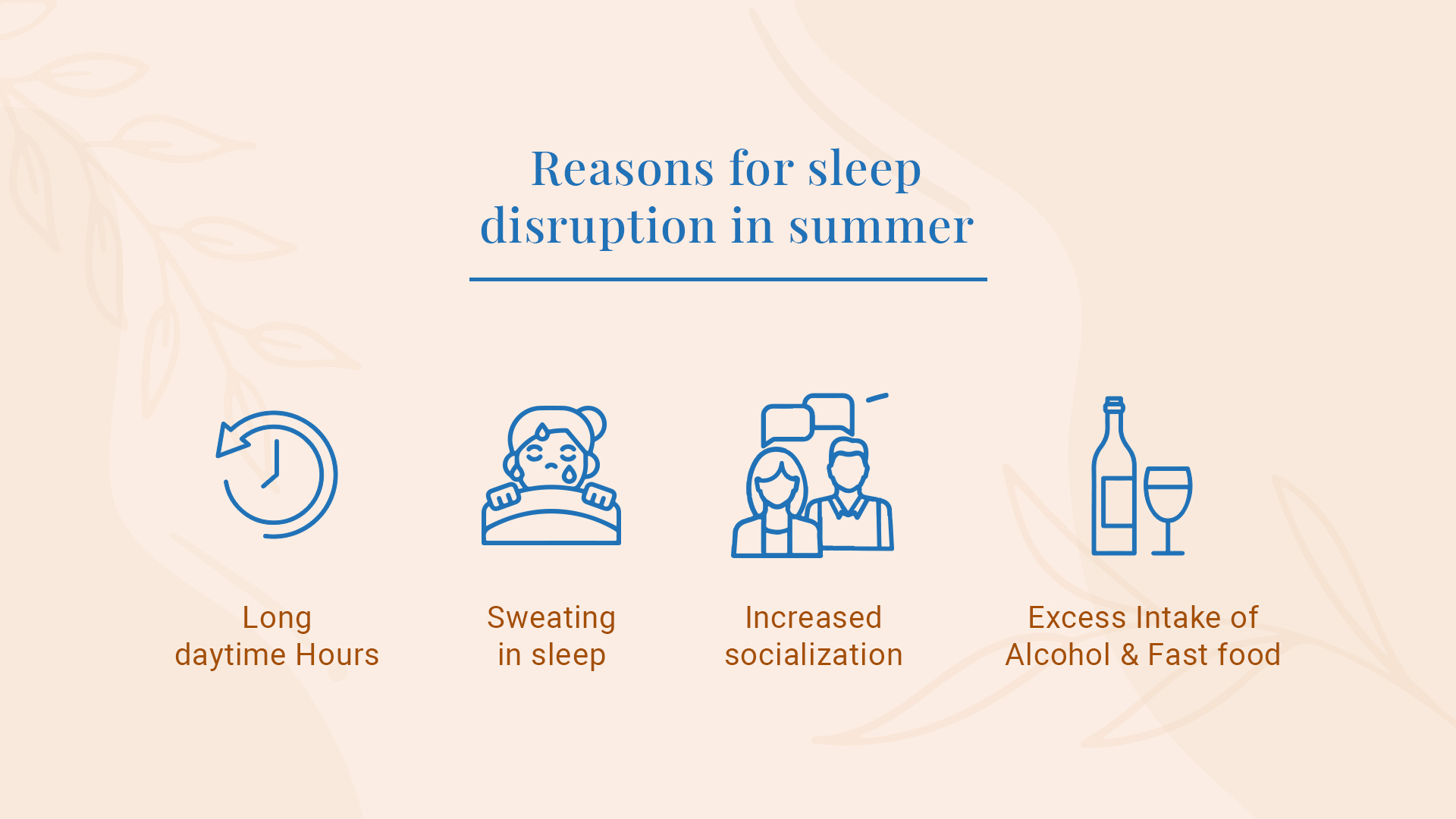 The common complaint is that they can't get good rest when it's too hot to sleep. Long daylight hours and humid temperatures make it difficult to sleep in summer.
Melatonin releases a signal to your body to rest. In summer, due to the long daytime, the secretion of melatonin is less. So, we sleep a little late and wake up early in summer. 
Due to longer daytime, we tend be more active. We travel, go on adventures and family vacations. This results in increased intake of high-calorie food till late at night. The sleeping pattern gets adversely affected and one wakes up with drowsy eyes in the morning. 
Higher temperatures in summer can be the reason for sleep disruption as we can sweat more at night. When the body temperature increases, it comes out of the relaxed state. Our subconscious mind gives the signal and we wake up.
These are the most common reasons for sleep disruption specifically during the hottest time of the year. But there are easy ways to beat the heat.
How can you easily fall asleep in Summer?
Keep hot air out of the bedroom.
Make sure you draw the curtains or shades in the morning and don't open them until bedtime. Keeping the sunlight out of your bedroom can help you get it to a cool temperature when you are heading to bed. You can go for blackout curtains, which block all outside light.
Develop good sleeping habits.
There are many ways to relax your mind for better sleep, especially when it is too hot to sleep. You can write a gratitude journal, do some easy stretching exercises, wear loose comfortable cotton clothes, go for a walk before bed, incorporate some relaxation practices like meditation in your day, etc. You just need to calm your mind before you sleep. 
Avoid exercising close to your bedtime.
 Exercise during the day can improve sleep quality, as it expends energy and makes you feel more tired in the evenings. However, exercising before bedtime can drive your body temperature to spike. This can adversely affect your sleep routine and you won't be able to sleep at the desired time.
Take a shower before going to bed.
Taking a hot shower before bedtime makes you calm and relaxed. It helps to lower your body temperature naturally to help you sleep quickly.
Maintain the room's temperature between 60-65 Fahrenheit. In the late evenings let the fresh air into your bedroom. You can also keep windows open if it's safe to do so. Use a rotating fan for better air circulation in your bedroom. Also, invest in good bedding for summers. 
Are you a hot sleeper? Finding solutions for a peaceful good night's sleep?
We have solutions for you too.
Wear cool, light, and loose pajamas. Silk is comfortable but it sticks to your body when you sweat. So, go for cotton nightwear.
You can keep your sheets in the freezer for a while and put them on your bed before sleeping. They will be cool when you are ready to go to bed.
Set up a box fan near your bed. It will keep hot air out of the room. Keep its direction towards you. You can also put a bowl of ice behind it.
Choose your pillow wisely. If your neck or head gets overheated, it causes sleep disruption. Hence, if you are a hot sleeper you will need a breathable pillow material & cases. Opt for soft, sweat-wicking, and cool Cotton Pillow Cases.  
Think of these options and follow whichever suits you. In the end, you should get good sleep at night as it's crucial for fresh, good mood in the mornings.
Overall, selecting the perfect bedding for Summer to ensure comfortable and restful sleep is as important as other factors.
How to select your best summer bedding?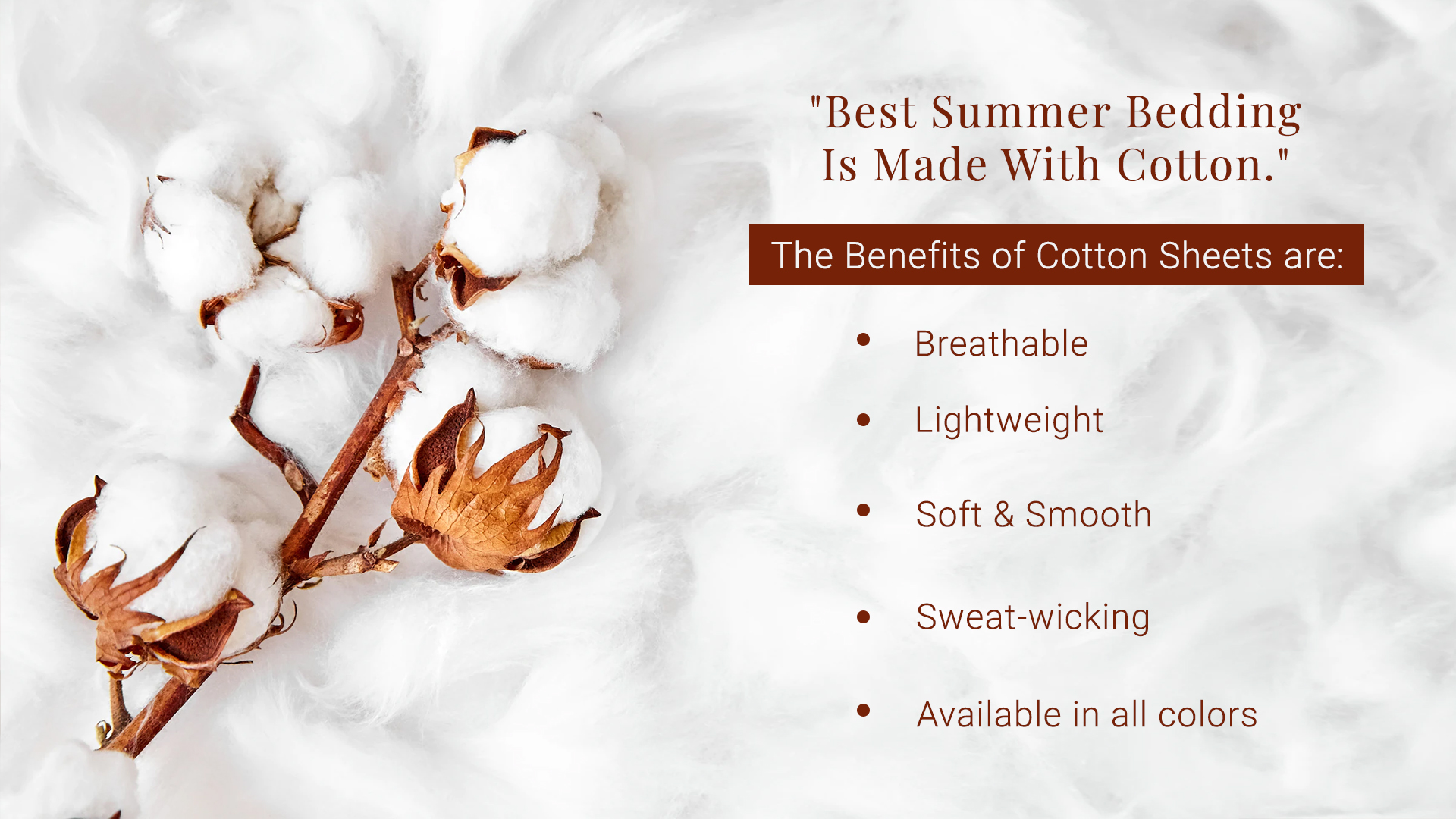 The breathability of sheets and pillowcases made from natural fibers like cotton or linen is greater than those made of polyester and other synthetic fibers.
Cotton is lightweight and breathable, which makes it perfect for year-round use. It's also durable, which means it will hold up over time and keep its shape better than other fabrics. The best part of all? Cotton can be found in almost any color, from bright yellows to deep reds. So, they are considered as one of the best beddings for summer.
Understanding the thread count of sheets is necessary for comfort on the bed. 400 thread count sheets are soft and lightweight & suitable for summer. 600 thread count sheets retain smooth texture. They also strike the right balance between warmth & breathability. 800 thread count sheets are thick & have a plush feel. These sheets are crisp & pristine. 1000 thread count sheets are luxuriously thick. They withstand many wash cycles and still, remain soft & opulent. You can opt for Best Bed Sheets with different thread counts as per your preference. 
Want to know more about thread counts? Read the blog here.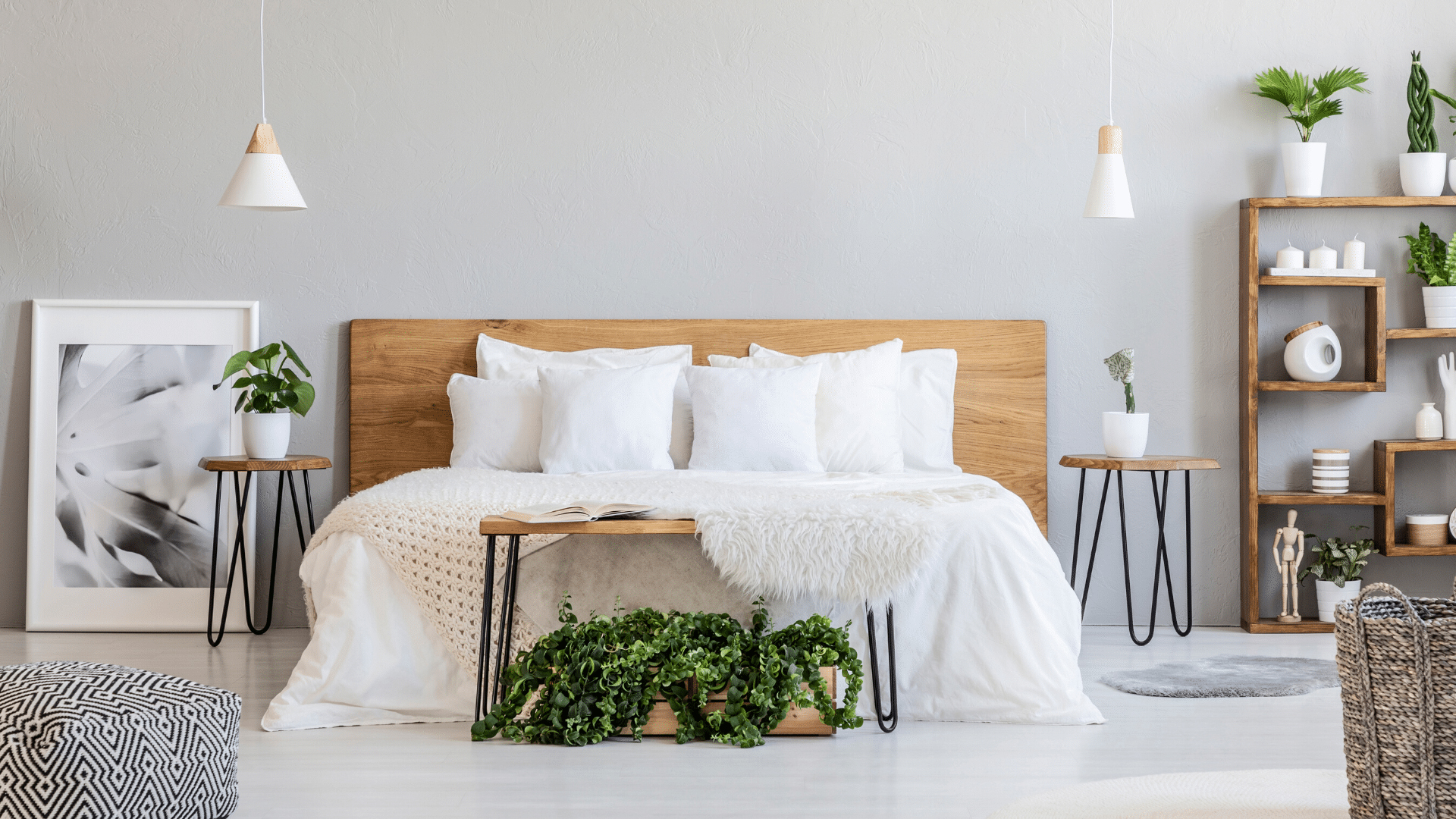 The color of your bedroom is a major component of the overall mood. You can use this to your advantage by choosing cool colors, which are more relaxing and calming than warm ones. Cooler shades will work well in bedrooms because they don't make you feel hot or sweaty while sleeping, which is especially important when it comes to summertime heat waves.
If you're looking to add a little more style to your bed, consider buying a special summer Flat Bed Sheets made of cotton. It can be used for many things: as a thin blanket or protective layer between you and your comforter; or even as an accent piece in an otherwise plain room.
If you want to go with a lightweight comforter or sheet set, it's a good idea to opt for one that is breathable. A lighter fabric will help keep your bedding cool and comfortable, especially in the summer months when temperatures soar. They are also easier to wash because they can dry quickly on their own without requiring much effort on your part. 
To select bedding for summer, choose cotton fabric, consider using Best Duvet Covers and pick out a lighter comforter. Cotton is the best summer bedding because it's lightweight and durable enough to move around during the night without feeling too heavy on your body.
Summer is a great time to invest in new bedding for your home. Choose the fabric according to your needs and quality for a comfortable sleep all year round. Do not forget to follow the above summer sleeping tips for a soothing & restful night.
Good night!