How to Choose Fitted Sheet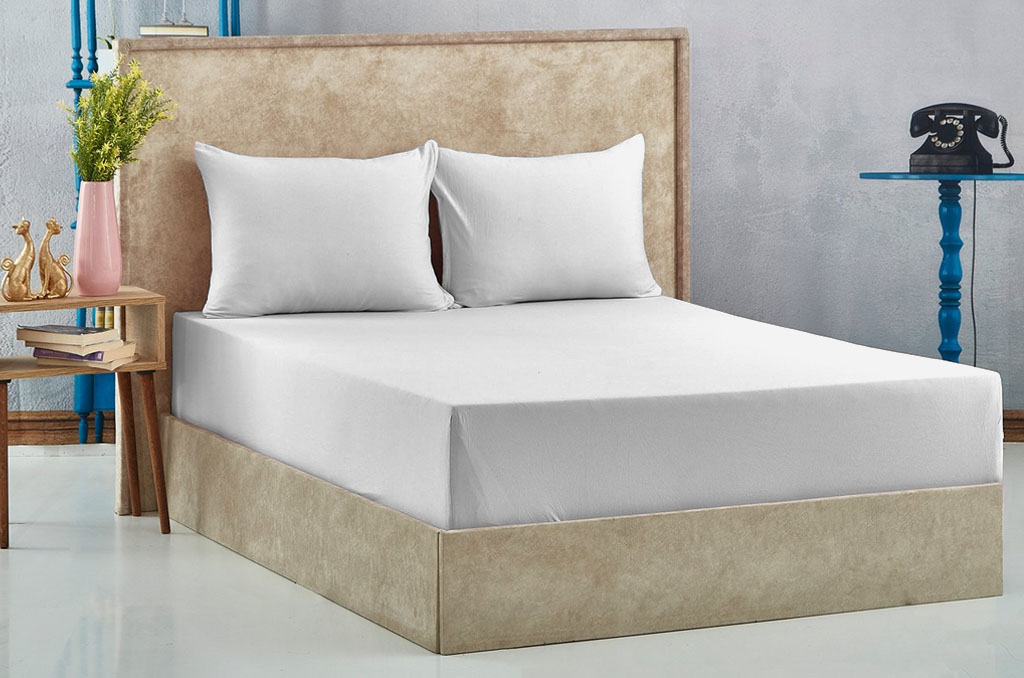 Wondering to buy bedsheets that don't cost a fortune and fits your mattress like a dream? You'll have to start by investing in linens that feel great on your skin and are long lasting. We've compiled a guide that starts from the basics like what are fitted sheets to the best thread count for sheets to how to fold fitted sheets easily, we got you covered.
What are Fitted Sheet
Fitted sheet is a fabric sheet with elasticated corners made to fit over a mattress tightly. It has elastic bands in the edge of the fabric corners to tightly cover the mattress and keep it at place. With fitted sheet bedsheet you can protect your mattress from grimes, dirt and spills. Designed to cover the mattress firmly in right place and function of fitted sheet is to protect the mattress to provide you with a smooth, soft surface to lie on. To ensure you have a comfortable experience laying on your fitted sheet mattress it's important to have the right dimensions of a mattress, and deep pockets so the fitted sheet stays in place.
What are deep pocket sheets?
The deep pocket sheets are the sheets that fit the thickness and size of your mattress from the top to the bottom. It is very critical to know while shopping for new fitted sheets what is the depth of your mattress and only based on that should you purchase your fitted sheets. The most common problem for fitted sheets tends to range from sheets not deep enough to fitted sheets too tight. You can find the depth of the mattress as below;
Standard Mattress: 7 to 12 inches high
Deep Mattress: 13 to 17 inches high
Extra Deep Mattress: 18 to 25 inches high
Once you know your mattress size, buying fitted sheet in proportion to your mattress size becomes easier.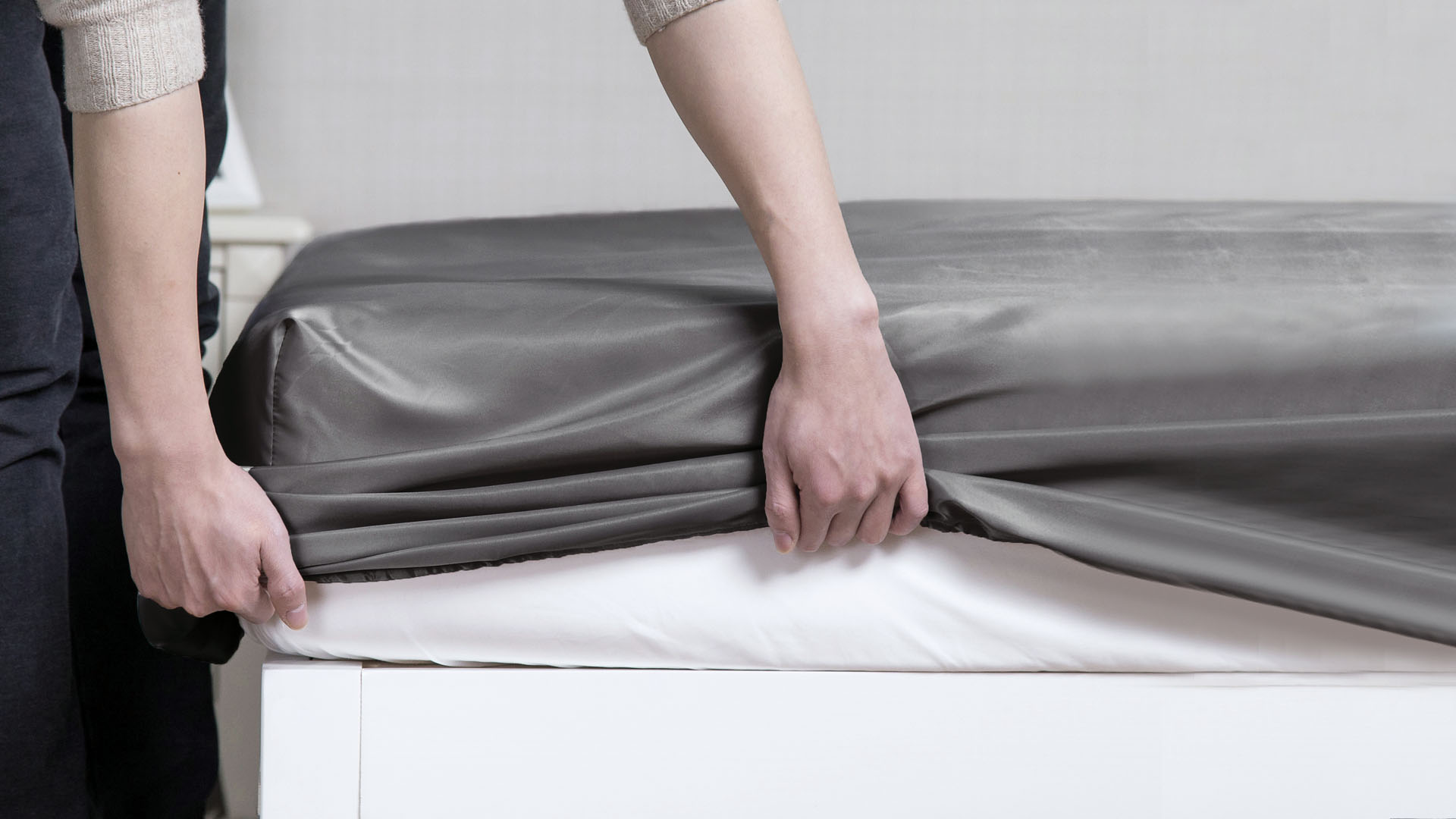 Best Sizes for Fitted Sheet
You have to get the size right because nothing else is as important as getting the dimensions correct. You may have to size up if your mattress is larger than a standard size. You can avoid fitted sheets unhooked from the corners by investing some time to find good fitting sheets based on the size of your mattress. We have made it easy for you by sharing the sizes of Fitted Sheets in dimensions in difference countries.
Below Fitted Sheet Sizes for US
| | |
| --- | --- |
| Category | Sizes |
| King  | 78" x 80" + 15" |
| Cal King | 73" x 84" + 15" |
| Queen | 61" x 80" + 15"  |
| Twin  | 39" x 75" + 15"  |
| Twin XL  | 39" x 80" + 15"  |
| Full  | 55" x 75" + 15" |
Below Fitted Sheet Sizes for UK
| | |
| --- | --- |
| Category | Sizes |
| Small Double | 120cm x 200cm + 40cm |
| Small Single | 80cm x 200cm + 40cm |
| Double | 140cm x 200cm + 40cm |
| Emperor | 200cm x 200cm + 40cm |
| King | 160cm x 200cm + 40cm |
| Single | 90cm x 200cm + 40cm |
| Super King | 180cm x 200cm + 40cm |
Below Fitted Sheet Sizes for Canada
| | |
| --- | --- |
| Category | Sizes |
| King | 78" x 80" + 15" |
| Cal King | 73" x 84" + 15" |
| Queen | 61" x 80" + 15" |
| Twin | 39" x 75" + 15" |
| Twin XL | 39" x 80" + 15" |
| Full | 55" x 75" + 15" |
Depth of Mattress
You have to measure the depth of your mattress as you don't want a fitted sheet that pops out while you are sleeping. You have to measure the side of the bed with a tape taking into consideration if you have a mattress topper. There are mainly three types of fitted sheet standard, deep, and extra-deep. If your mattress is 12inch high, a standard fitted should be enough. Similarly, deep fitted sheet are ideal for 15inch high mattresses. The biggest fitted sheet is with extra deep pockets that fit mattress from 16 to 22inch.
Fitted sheet manufacturer along with the size mention how deep a mattress it can fit. Ensure you check the depth of your mattress before buying online.
What is a good thread count for sheets?
Thread counts between 400 thread count to 1000 thread count are universally considered to be premium quality best thread count. Thread counts help to determine the durability and softness of the fabric, but that's not all, the type of fiber and style of weave can also affect the softness and its durability.
400 Thread Count Sheets
400 Thread Count sheets and covers are entry-level for premium buyers. These sheets are affordable and lightweight which means the breathability is brilliant without stressing your wallet. With 400 Thread Count sheets, you can enjoy softness and comfort as they are lightweight. Going for these sheets is a reasonable choice because they don't cost much at the same time provide you a luxurious feel. The 400 Thread Count sheets are suitable for warm climate conditions.
600 Thread Count Sheets
They are crafted out of fine threads and provide a luxurious feel. If you are willing to spend a little over your budget for quality, the 600 Thread Count sheets are an ideal choice. These sheets are a bit denser and strike the right balance between breathability and warmth. The softness of the 600 Thread Count sheets is lavish and comfortable for an enjoyable experience.
800 Thread Count Sheets
You must go for the 800 Thread Count sheets if you are looking for luxurious sheets to last for years. These sheets have outstanding strength and can endure multiple washes while retaining the smooth texture and color. Moreover, the 800 Thread Count sheets transform your sleeping space because of their appearance and feel. The thickness and plush feel of these sheets are marvelous, only slightly expensive but they are sure to garner praises from your guests and family.
1000 Thread Count Sheets
Your every bit of penny will be worth the 1000 Thread Count sheets if you want to adorn your sleeping space with superb luxury and comfort. These sheets are tailored to endure washes for years. The creases and wrinkles on the 1000 Thread Count sheets are less even after undergoing many washes for a long duration. Therefore, these sheets are expensive because they are thick and can endure many wash cycles. The texture, sheen, and fabric of the 1000 Thread Count sheets feel like hotel collection bedding hotel quality luxury.
Types of Fabric Used in Fitted Sheet or Bed Sheet
There are fabrics available in the market for fitted sheet, organic as well as artificial. Picking up the right one might be difficult but you have to always consider your surroundings when it comes to the fabric of any bedding. Let's have a look at the commonly available fabrics for bed sheet.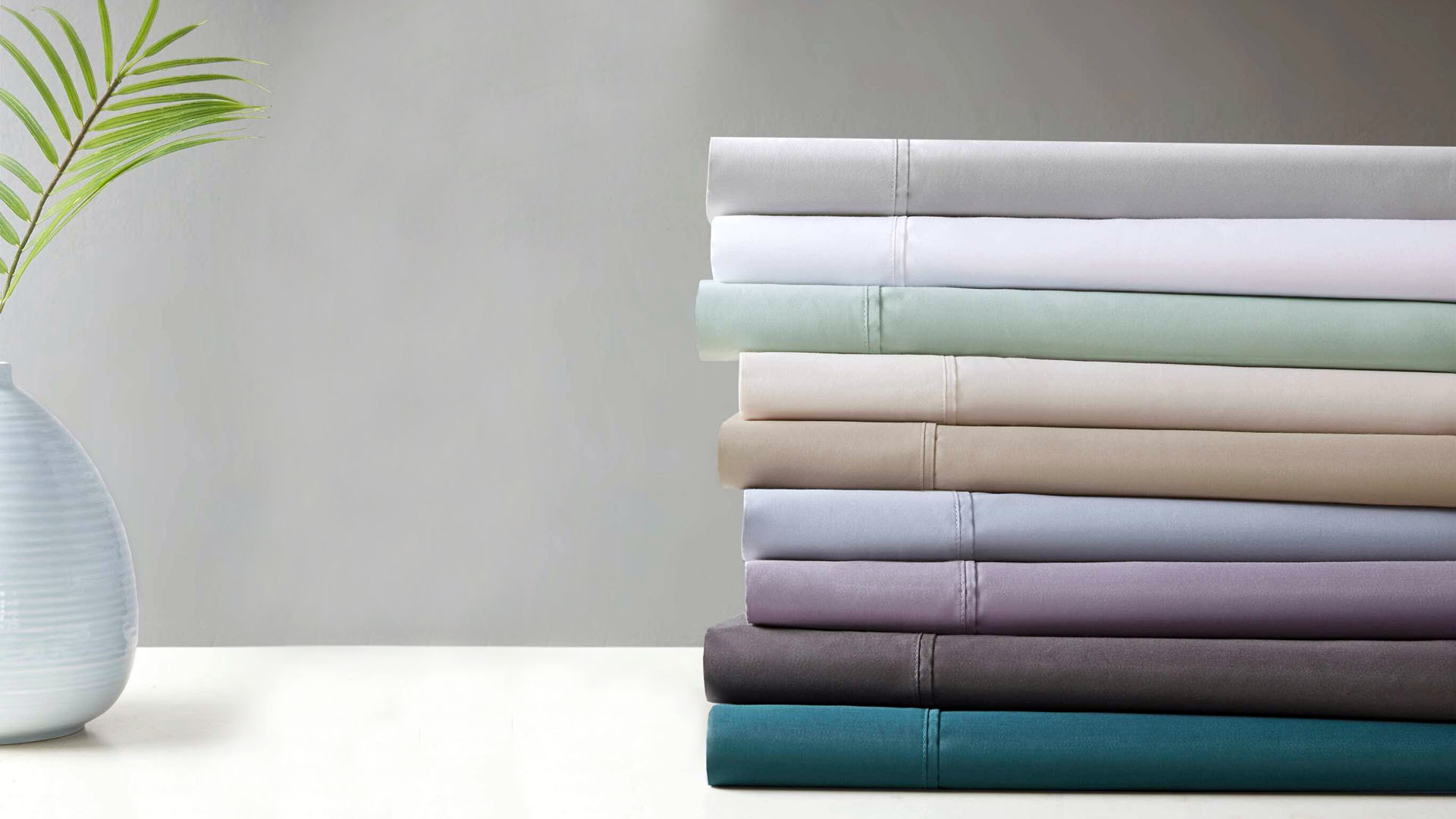 Cotton – Cotton is amongst the best of the lot and is preferred by most of the bedding makers. It is natural, soft, good on the skin, and comfortable. There are different types of cotton like Long Staple, Egyptian, Upland, Levant, and others.
Silk – Fitted sheets made from silk are suitable for cold conditions as they trap heat efficiently. The smooth texture of silk bed sheets is brilliant. However, wash care of the silk bedding can be expensive.
Microfiber – A synthetic material often blended with other fabric for softness has been a popular choice because of its cheap cost. Microfiber fitted sheets are lasting and easy to care for. But they are not good for people with skin sensitivities.
Linen - Although not as expensive as silk, linen is costly because of its value for strength and durability. It is cool and breathable with high absorbency. The softness of linen is pleasurable and feels gentle on the skin.
Tencel - Another popular fabric in the bedding industry is Tencel. It has gained popularity over the years because of the sustainable production, softness, and durability. Furthermore, Tencel offers hygiene because of its natural antimicrobial properties. Tencel is often mixed with other materials for improving its softness and comfort.
A lot of other synthetic fabrics have come along over the years and mixed with natural materials for achieving the softness and texture. Although, these materials might feel soft and comfortable, they are a nightmare for skin allergies.
How to Wash Fitted Sheet
Taking care of your fitted sheet is important as you expect it to last for years. Also, because over a week's time the bed sheet accumulates dirt, oil, sweat, dead skin cells, and mites.
We've created this handy guide to help you wash the fitted sheet.
Choose a gentle cycle while using the washing machine and tumble dry low.
Unfold the fitted sheet instead of rolled fitted sheet for an easy, wrinkle-free washing experience.
Wash fitted sheets separately to keep them away from pilling and wrinkles
Add detergent to the water instead of pouring it right onto your fitted sheet/bed linens
Keep colors bright by not using bleach to avoid color loss.
Use warm water using a mild detergent for softness and durability.
To get rid of dust mites/bacteria if any, wash in hot water (60° C/140° F). If you want extra soft fitted sheets, you may add softener into the rinse cycle
Remove sheet from washer and dryer quickly to reduce wrinkles.
We recommend line drying to avoid wrinkles
Remove from the dryer slightly moist and then spread them onto the bed by hand pressing them to minimize wrinkles.
Steam-iron your pillowcases and sheets for a brand-new feel
Wash your fitted sheets once a week for smooth sheets and a peaceful sleeping experience
Keeping your linens hygienic is a good practice that everyone must follow. Watch this wash care guide video for keeping your bed sheets clean.
How to Fold Fitted Sheet
Folding a fitted sheet properly is important to keep it wrinkle-free. Also, you get to save a lot of space with a neatly fold bed sheet. Follow these steps to easily fold your fitted sheet.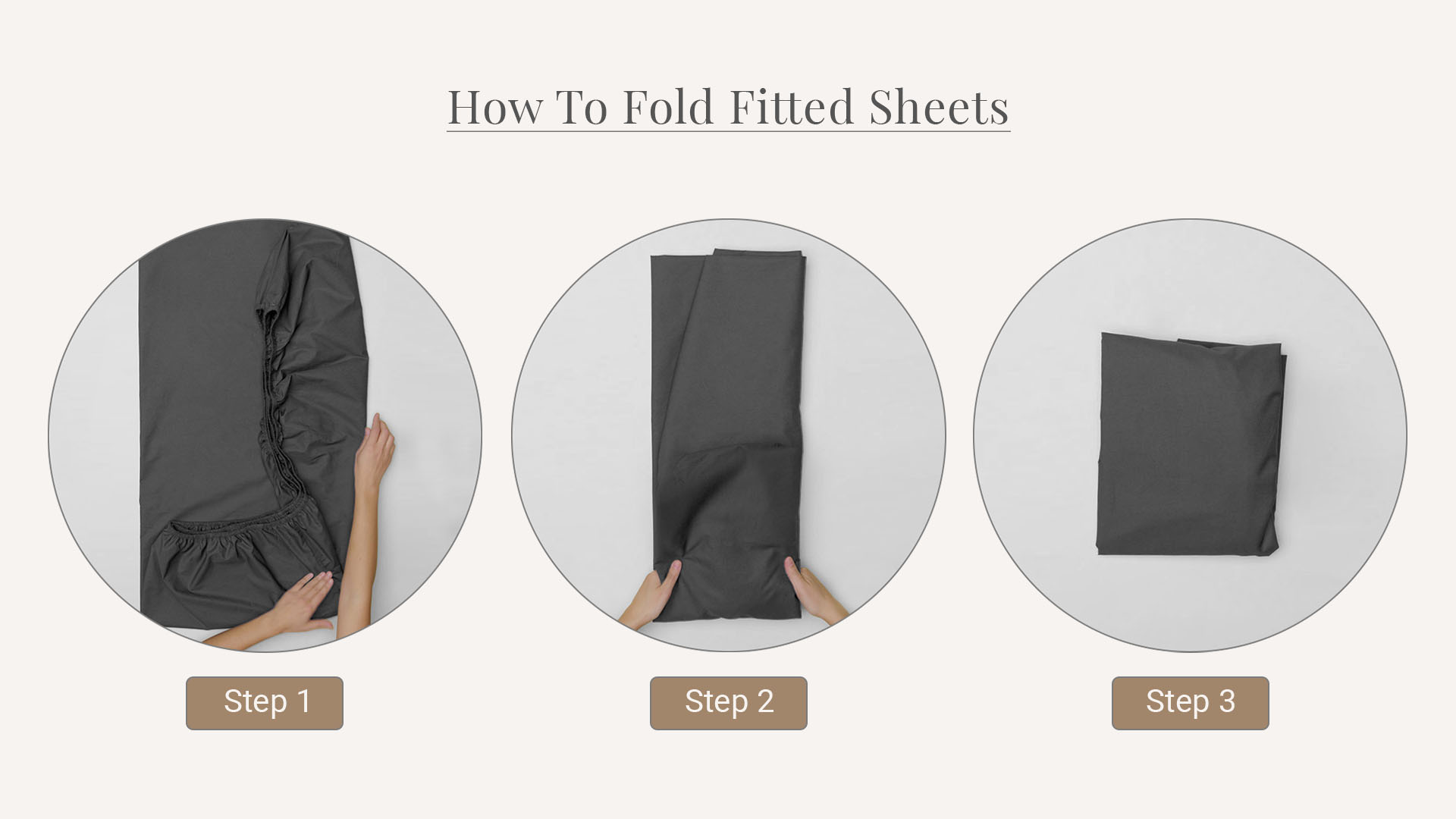 Length-wise, locate all four corners.
Place both your hands on the inside corner, directly at the seams, while the opening of the fitted sheet faces your body.
Bring both the corners in your left hand and ensure they are aligned.
Tuck the first two corners inside, while picking up the third one.
Hold the last corner's seam from the inside and repeat step 3.
Adjust the fitted sheet so that all corners are tucked into each other.
Lay flat the fitted sheet, square off the edges and fold into halves.
Your fitted sheet is an important part of the bedding as it not only protects the mattress but is in direct contact with you. The fabric along with thread count is important to determine the softness, comfort, and durability. With the elasticized corners you will have a convenient time putting the fitted sheet over the mattress. All the points mentioned will help you make the right choice, so make sure you tick all the boxes. Explore fitted sheets in appealing color that will transform your bedroom to 5star hotel-quality. These come with deep pockets, patented-stitching and 360° elastic.