Guide To Sheets - The Ultimate Guide To Bedding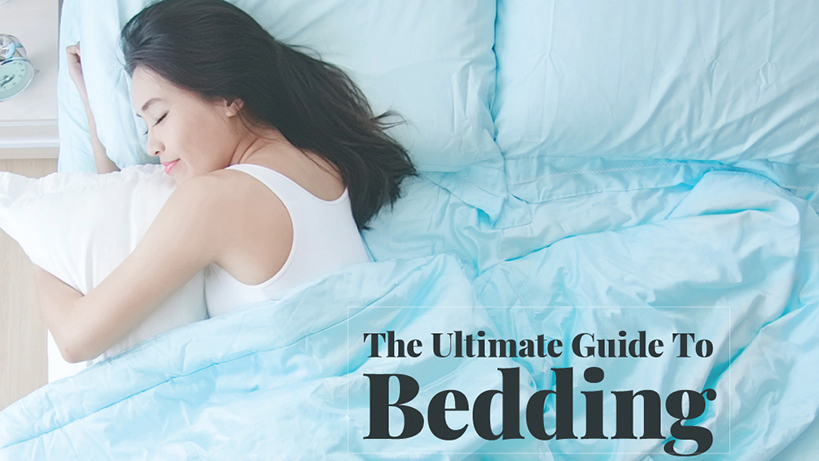 In such especially tumultuous and stressful times, it is of tantamount importance to take care of your health.
Health is more than exercise and eating right: proper sleep is a core concern. People spend lots of time making proper purchase decisions for everything in their life. It's time to do our due diligence for picking the right bedding for them.
Learn more in the guide to sheets and ultimate guide to bedding in the infographic below:
In 2021, people spent more than $87 billion on new bedding worldwide Bedding Preferences
By The Numbers
Bedding Preferences
2 in 3 Americans still use a flat sheet

Who's ditching the flat sheet?

Gen Z: 38%
Millennials: 32%
Gen X: 31%
Boomer: 33%

On average, Americans use 3 pillows each

0: 2.6%
1:7%
2: 31%
4: 27%
5: 7%
6: 7%
7:2%
8:3%

Most choose a comforter or blanket

Comforter: 58%
Blanket: 55%
Quilt: 11%
Bedspread: 11%
Duvet: 11%
Changing Sheets
32% of Americans wash their sheets once a week — but many wait far longer
73% of single women are changing their sheets on a weekly basis

51% of single men wash their sheets every 10 weeks or less
56% of couples only change their sheets once every two weeks

Just 14% manage the recommended weekly cleaning
In the UK, 45% of single men admit not washing their sheets for 3-4 months at a time

12% only change sheets when they remember, which could be even longer
65% of Americans say they don't have time to change their sheets regularly — 47% simply forget to do so

Are you washing your sheets often enough? 

Experts recommend

Pillowcases: Weekly
Sheets: Weekly
Duvet cover: Every 2 to 4 weeks
Blankets: Every 2 to 3 months
Pillows: Every 4 to 6 months 

53% of Americans don't believe expert recommendations on changing bedding

24% didn't know they should be washed so regularly
19% believe showering before bed keeps sheets clean

In the UK, nearly 1 in 4 people don't change their sheets because they don't have a set of clean bedding to put on.

People who change their sheets more often, get better sleep

How satisfied are you with your quality of sleep?

 

Very satisfied: 12.8 days between washes
Somewhat satisfied: 16.1 days between washes
Somewhat unsatisfied: 16.7 days between washes
Very unsatisfied: 19.9 days between washes
68% of Americans struggle to fall asleep at least once a week — Is it time to change your sheets?
You may need new sheets if

You see yellowing, tearing, or holes
The seams are splitting or fraying
You aren't sleeping as well as you used to
If you notice an odor, even after a wash or you wake up with itchy skin, a stuffy nose, or other allergy symptoms, wash your sheets in hot water.
Choosing Your New Sheets
Material Matters

Linen

Breathable fabric that softens with each wash
Prone to wrinkling, shrinkage, tearing, and snags
More expensive than cotton of the same quality

Sustainable Plant-Based Fibers: Bamboo, Modal (Beech), Tencel (Eucalyptus)

Cooling, breathable fabrics
Difficult care requirements, easily damaged
Much more expensive than cotton

Polyester

Most affordable and durable option for bedding
Non-breathable fabric traps heat and moisture
Prone to staining and pilling over time

Silk

Comfortable for all-season use
Extremely expensive and hard to find
Difficult care requirements, easily damaged

Cotton

Maximizes comfort for all seasons

Moisture-wicking and breathable
Cool in summer, warm in winter
Hypoallergenic natural fiber
Softens with each wash

Easy to care for, highly durable, and affordable\

Cotton Quality 

Staple Length: Length of the fibers used to weave the fabric — Longer staples create softer, more durable sheets

Extra-long staple

Look for certified Egyptian cotton, Pima, and Supima

Long staple

Sourced from India, Egypt, and the USA

Short staple

Usually labeled "100% cotton"

Weave

: Different weaves can change the softness and durability of your sheets

Percale

Lightweight and wrinkle resistant
Grows softer with each wash
Good for hot sleepers and summer weather

Sateen

Subtle lush, silky feel similar to satin
Elegant drape
Good for all-season comfort

Twill

Thicker weave, often used for flannel
Wrinkle-resistant, but prone to shrinkage
Typically a more affordable option

Thread Count: The number of threads in one square inch of material (both horizontal and vertical)

Higher thread counts offer smoother, more durable sheets
No longer the deciding factor in sheet quality — Stick to anything above 250 to ensure durability
Ply: The number of fibers used to create one thread

Single-Ply: One fiber per thread

Tight weave, softer and higher durability
Single-ply is often better than two-ply

Two-Ply: Two fibers twisted together

Loose weave, rougher feel, and lower durability
May be used to increase thread count without increasing quality

Sheet Size: Mattress size is just the first step, consider how thick your mattress is and if you have a mattress topper

Standard: Fitted sheet covers 7-14 inches
Deep: Fitted sheet covers 11-17 inches

Consider Color
Are you worried about cleanliness?

Classic white provides a crisp, clean feeling — and is easily bleached
Dark colors evoke night and rest — help hide discoloration and stains

Are you a night owl or a morning person?

Bright colors stimulate the brain, promoting morning wakefulness
Neutrals are soothing to the eyes, promoting restful sleep

Looking for more color?

Green earth tones create a tranquil, natural feeling environment
Blues are considered the most soothing nighttime colors

Try mixing it up

Buy two sheet sets in the same color families and mix them for a monochromatic look
Use a brightly colored top sheet with neutral bedding for a subtle pop of color
Choose comfort and quality with luxurious cotton from Pizuna Linens 
Sources: 2022 Pizuna Linens Survey of 4,100 US adults and 2,250 UK adults

https://amerisleep.com/blog/best-and-worst-colors-for-sleep/
https://www.thesleepjudge.com/types-of-bed-sheets/
https://casper.com/blog/types-of-bed-sheets/
https://sleepopolis.com/blog/bed-sheets-ultimate-guide/
https://www.sleepjunkie.com/america-undercover/
https://www.consumerreports.org/sleep/why-americans-cant-sleep/ 
https://www.parachutehome.com/blog/how-often-to-replace-sheets